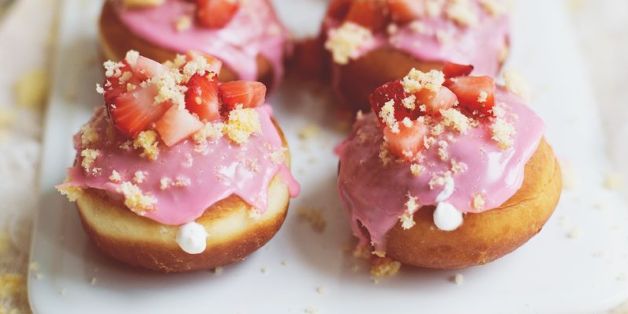 A Beautiful Mess
Strawberry shortcake is one of America's favorite summertime desserts, and it's easy to understand why. It has all the right components of a truly great recipe: fresh summer strawberries (a food everyone must experience before they die), biscuits or cake (two champions of baking), and whipped cream. Lots of whipped cream.
The strawberry shortcake is put together in a great messy stack that gives us just the excuse we need to dig in with no reservations. It's basically the sweet representation of what summer freedom is all about. The classic strawberry shortcake couldn't disappoint even the greediest of sugar freaks, but twists on the classic are even more amazing. And we found more than 10 of those for you guys.
1

Individual Strawberry Shortcakes

The Kitchen McCabe

2

Strawberry Shortcake Cupcakes

Cooking Classy

3

Glazed Donut Strawberry Shortcake

Oven Adventures

4

Strawberry Shortcake Cake

Lark & Linen

5

Strawberry Shortcake Donuts

A Beautiful Mess

6

Roasted Strawberry Shortcake Milkshake

Spoon Fork Bacon

7

Strawberry Shortcake Cookies

Cookies & Cups

8

Strawberry Shortcake Bars

Six Sister Stuff

9

Rye Shortcakes With Roasted Strawberries And Rhubarb

Yossy Arefi/Food52

10

Surprise Strawberry Shortcake Cupcakes

Sally's Baking Addiction

11

Strawberry Shortcake Appetizer

Lady Behind The Curtain
Want to read more from HuffPost Taste? Follow us on Twitter, Facebook, Pinterest and Tumblr.
YOU MAY LIKE
CONVERSATIONS
FOLLOW HUFFPOST