Sports beverages have circled the Earth, and soon they may find their way to the moon.
The promotion will take the form of a reengineered can of the company's Pocari Sweat sport drink. The titanium "dream capsule" will contain a powdered version of the beverage and tiny engraved messages from children who were given a chance to send their dreams to the moon.
(Story continues below)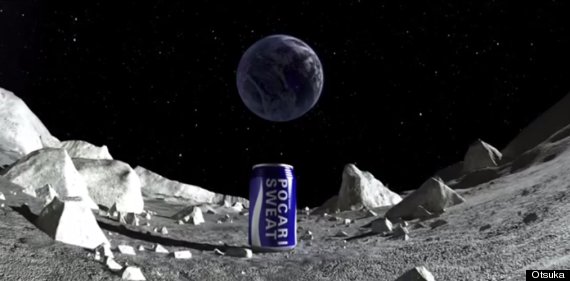 A still from a video created by the production team behind Otsuka's "dream capsule" shows what the blue Pocari Sweat can will look like on the moon.
Otsuka considers the can a sort of time capsule. The idea is that decades from now, someone will land on the moon, open the capsule, read the dreams -- and then reconstitute and drink the powdered beverage. Using lunar water, of course.
Also on HuffPost:
Lunar Bases And Exploration Concept Art
SUBSCRIBE AND FOLLOW
Get top stories and blog posts emailed to me each day. Newsletters may offer personalized content or advertisements.
Learn more