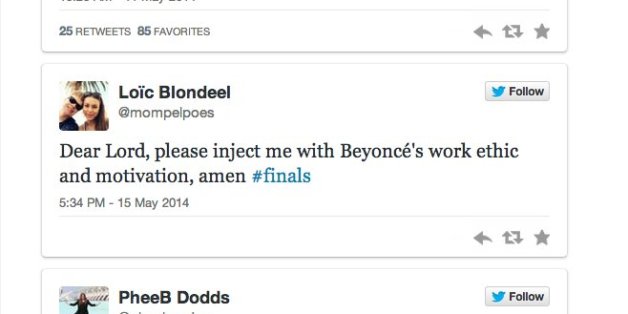 Every week, we round up the best 140-character quips and insights from our esteemed blogging team -- and other equally awesome teen tweeters. Scroll down to read the latest batch and share your own suggestions by following @HuffPostTeen!
This week's tweet roundup was compiled by Phoebe Dodds. Phoebe is 18 and loves Europe, Anderson Cooper and reading travel guides (in no particular order).
what is a tyler oakley?? Idgi???????
the next person to use the term "conscious uncoupling" to describe their breakup gets slapped
am I the only one who gets a slight adrenaline rush when entering a book shop??
!???
??!?
Life goal: have a font based on my handwriting and named after me.
I changed my gmail chat status to "available" today and took it off "busy" for the first time since August. This feels foreign. 😳😁
im actually destined to be a crazy cat lady, i woke up this morning and there was a random cat on my bed, aswell as my 2 obvs 🐱🐱🐱
i want to tweet more but ive lost my passion
i feel like i can empathize with britney spears now
Dear Lord, please inject me with Beyoncé's work ethic and motivation, amen #finals
"Honey you don't want to see what I looked like in the nineties", said my friend who was around for like 4 years of the nineties
All of me hates all of school
Heard the guy near me in coffee shop say:"99% of things that happen in your life won't ruin it". The volume of his voice is currently my 1%.
Trying to find a cab in the late afternoon on 7th avenue is one of my least favorite things on this planet.
digging this free pepper jack cheese and tiny carrots not but actually sort of
"wow, you look so hot tonight." - me to my three slices of pizza. they are sizzling ferociously, I hope to not burn myself.
So there's a word in German to describe the feeling of not experiencing vertigo in a situation where vertigo would be a normal reaction
I'm still "it" from a game of tag 6 years ago...you may be too
i need to get some friends who are hard core hikers
Follow HuffPost Teen on
Twitter |
Instagram |
Tumblr |
Pheed |
SUBSCRIBE AND FOLLOW
Get top stories and blog posts emailed to me each day. Newsletters may offer personalized content or advertisements.
Learn more