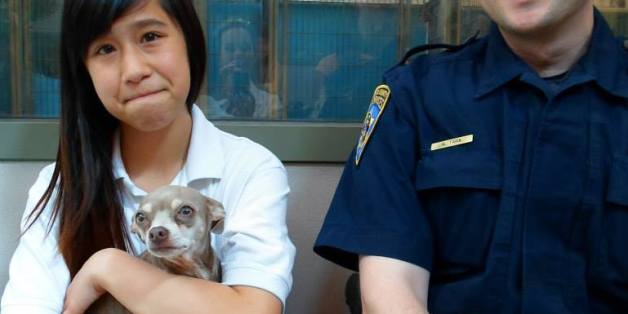 On Thursday, the dog was reunited with her family -- and Contra Costa Animal Services posted the heartwarming reunion photos on Facebook:
The dog had been nicknamed Freeway, but her real name is Charm, and she lives near the freeway with her family.
Over the weekend, Charm got loose and somehow dashed halfway across I-680 in Walnut Creek before climbing up onto the highway divider and hunkering down as traffic whizzed by.
She was eventually rescued by the California Highway Patrol and Contra Costa Animal Services.
Since Charm had not been microchipped, it was believed she was either a stray or abandoned, but in fact, the dog's family was heartbroken when she disappeared. The two little girls had been posting photos of their dog on Instagram for days looking for help.
Charm is now safe with her family, and the two girls drew a picture to thank the agency and the police officer who helped rescue their pet. In the drawing, the dog has two food bowls: one that says "Charm," and one that says "Freeway."
"We are ALL very happy for the family, who have learned a very valuable and expensive lesson in pet licensing, microchipping, spaying, good fencing, and the power of social media!" the agency said.
Here's the heartbreaking photo that helped set the stage for the reunion:
Earlier in the week, Animal Services reminded the many people who offered to adopt Charm that she's not the only dog out there.
Also on HuffPost:
Six Ways To Help Rescue Pets
SUBSCRIBE AND FOLLOW
Get top stories and blog posts emailed to me each day. Newsletters may offer personalized content or advertisements.
Learn more