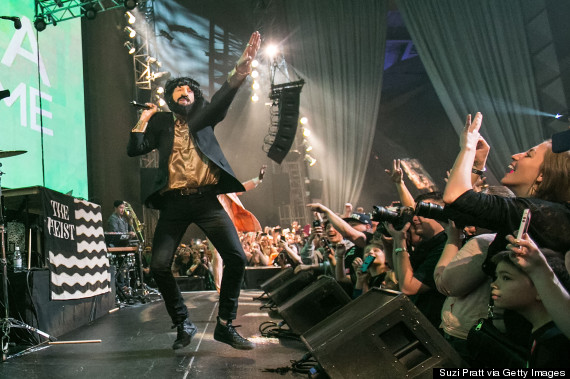 The Daily Dot, among others, criticized Macklemore for his outfit, which turned the rap star into what the site called "some kind of Jewish caricature, prosthetic schnozz included."
for those who don't know, @macklemore performed Thrift Shop dressed as a racist Jewish stereotype. idiot.
Even Seth Rogen commented on Macklemore's choice of wardrobe.
During the performance, which was part of the opening of an exhibit at Seattle's EMP Museum called "Spectacle: The Music Video," Macklemore made no reference to the meaning behind his costume.
Once the story picked up steam on sites such as The Daily Dot and BuzzFeed, however, the rapper did comment on the controversy via his Twitter account.
A fake witches nose, wig, and beard = random costume. Not my idea of a stereotype of anybody.
After Macklemore made that comment on Twitter, Rogen replied with a remark of his own:
.@macklemore really?? Because if I told someone to put together an anti Semitic Jew costume, they'd have that exact shopping list.
My intention was to dress up and surprise the people at the show with a random costume and nothing more. Thus, it was surprising and disappointing that the images of a disguise were sensationalized leading to the immediate assertion that my costume was anti-Semetic. I acknowledge how the costume could, within a context of stereotyping, be ascribed to a Jewish caricature. I am here to say that it was absolutely not my intention, and unfortunately at the time I did not foresee the costume to be viewed in such regard. I'm saddened that this story, or any of my choices, would lead to any form of negativity.
SUBSCRIBE TO & FOLLOW ENTERTAINMENT
Get top stories and blog posts emailed to me each day. Newsletters may offer personalized content or advertisements. Learn more