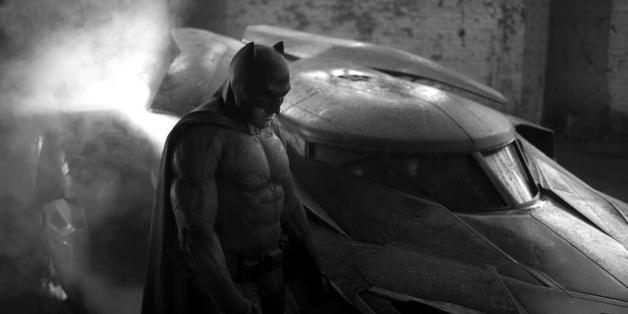 The Batman-Superman crossover film will officially be titled "Batman V Superman: Dawn of Justice." Production on the Zack Snyder-directed movie begins today, May 21, in Detroit.
The "Man of Steel" Twitter account confirmed the news and tweeted a logo for the movie that acts as a hybrid of the Batman and Superman emblems.
If DAWN OF JUSTICE tees up a Justice League movie, then basically this one ends with Aquaman appearing to say, "Hey, guys—let's not fight."
I don't know, you can crap of DAWN OF JUSTICE, but it ain't much different than THE FIRST AVENGER. Both setting up future movies
Are people going to throw tomatoes if I say I like DAWN OF JUSTICE? I mean, it's setting up JUSTICE LEAGUE. I give it benefit of the doubt.
DAWN OF JUSTICE is just them admitting that Superman killing all those people in the last film was unethical, right?
Batman V Superman V Buffy: Dawn Summers Of Things, You Know, All Justice-y
I hope the Batman V Superman: Dawn of Justice production hires Dawn Justice Photography. http://t.co/8taLHNdtlE
An actual movie coming out: BATMAN VS. SUPERMAN: DAWN OF JUSTICE. Not a fan film.
Batman v. Superman: Dawn of Justice. Four ideas overstuffed into one title, so it's probably very fitting for the movie.
'Batman v Superman: Dawn of Justice' couldn't sound less like a legal case if it tried.
Batman vs. Superman: Dawn of ¯\_(ツ)_/¯
Ethan Hawke and Julie Delpy bicker as miserable marrieds in JESSE V CELINE: BEFORE DAWN OF JUSTICE.
The news comes on the heels of the movie's first photo -- which features a dour-looking Ben Affleck donning the Batsuit -- prompting the Sad Batman meme to explode across the Internet.
"Batman V Superman: Dawn of Justice" arrives in theaters May 6, 2015.
SUBSCRIBE TO & FOLLOW ENTERTAINMENT
Get top stories and blog posts emailed to me each day. Newsletters may offer personalized content or advertisements. Learn more