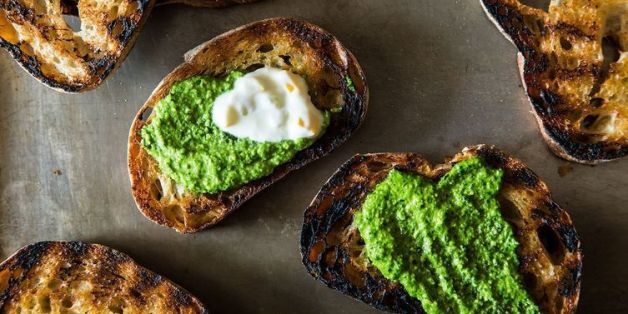 Summertime means many things to us -- fresh corn, tomatoes, seafood, berries, and pesto. Pesto is one of those foods that has the ability to completely transform a dish. Whether it's livening up grilled seafood or topping spaghetti, pesto makes anything it touches turn to gold -- or, actually to a perfectly green goodness. Pesto's bright green color perfectly represents what's in store: a refreshing burst of flavor that's light, herbal and incredibly delicious.
Not only is pesto super versatile, you can also make a ton of different kinds of pesto. Classic pesto is pesto Genovese: garlic, pine nuts and fresh basil ground to a paste and mixed with olive oil and Parmesan cheese. That basic recipe can be adapted into so many wonderful iterations, using everything from cilantro or mint to spinach or watercress. You might sub pistachios or walnuts in for pine nuts, add lemon zest or sun-dried tomatoes. The possibilities are endless, and no matter what kind of pesto you make, it will undoubtedly taste good just about everything. Use it as your secret ingredient this summer to elevate the joys of simple, summer cooking to the next level.
Here are 22 ways to use pesto to get you started:
Want to read more from HuffPost Taste? Follow us on Twitter, Facebook, Pinterest and Tumblr.
ALSO ON HUFFPOST:
PHOTO GALLERIES
Pesto Recipes