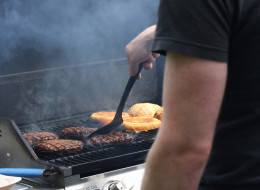 For some of us, spring is a three-month-long warm-up session for burger season. We're just waiting around until we can dust off our grills, or for those of us trapped in the urban sprawl, at least eat our griddle cast iron skillet. But we know there are some of you out there who dread burger season because of the burger mistakes we've all made at one point or another -- maybe they're overcooked, maybe they're rubbery, maybe they're dry or boring. If your hands have gone all clammy, take a deep breath, you're in the right place.
Like all other kinds of instinctual cooking, no one can really tell you exactly how to cook a burger. There are tons of variables: meat quality, cooking method, temperature preference. Like all things worth cooking, you have to mess a few up before you hit your stride. Since Memorial Day is coming up, we figured now was a great time to address these mistakes head-on so that your burger season is delicious and stress free.
Without further ado, we give you the eight most frequent mistakes we all make with burgers:
Buying very lean, cheap or frozen meat.

Flickr: Darran C

Over-working your burgers/adding a bunch of other stuff into the mix.

Flickr: Pillsbury

Making round patties, without a divot on either side.

Flickr: Alexander Dibbo

Being afraid of heat.

Flickr: elNoel

Smashing your burger down as it cooks.

Flickr: Steven

Cutting into the burger to test the doneness.

Not letting your burger rest.

Flickr: Yuwen Memon

Not experimenting with toppings.

Flickr: jasperlin451
Want to read more from HuffPost Taste? Follow us on Twitter, Facebook, Pinterest and Tumblr.