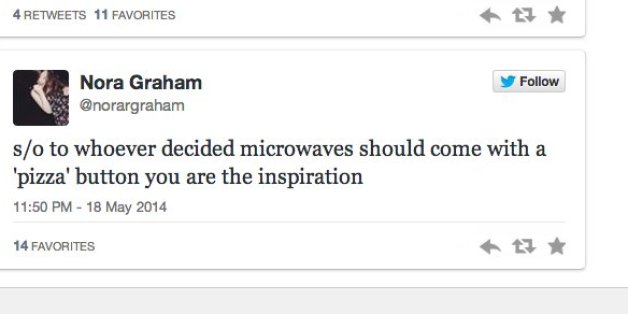 Every week, we round up the best 140-character quips and insights from our esteemed blogging team -- and other equally awesome teen tweeters. Scroll down to read the latest batch and share your own suggestions by following @HuffPostTeen!
This week's tweet roundup was compiled by Annie Schugart. Annie just graduated from high school and is currently unsure what to do with the new concept of "free time," so she has found herself checking Twitter, tie-dying, checking Twitter, doing something semi-productive, making music, checking Twitter and tweeting.
I've spent my whole
day laughing at the fact that John Travolta called Idina Menzel Adele
Dazeem...
I like my internet
friends more than my graduation class. I feel like that's the
anthem of a teenager who knows how to network.
texting cute
people
how do you do that without sounding like a dork
how
many winky faces is too many
h e l p
Keep me as your top
bestfriend on snap chat so I know it's real 😂
Also, my phone
automatically adds the accent in Beyoncé's name.

She's literally that iconic.
Cold weather keeps
coming back like that one ex you can't get rid of.
I'm looking forward
to summer so I can be super obnoxious and overuse
"HAGS".
I am deeply deeply
attracted to Aladdin like I am so sorry to my parents that this is
what you've raised
In like 20 years our
kids will be like "daddy, how did you meet mommy?" and then
we're like "well you see son, I swiped right on
tinder.."
I love grad party
season because I don't have to spend any time, energy, or money on
making my own meals href="https://twitter.com/search?q=%23happycamper&src=hash">#happycamper
iPhone battery life
shorter than my attention span in chemistry
s/o to whoever decided
microwaves should come with a 'pizza' button you are the
inspiration
I showed a picture of
Beyoncé to my grandma and she said:

I'm not a my grandmas house
anymore
Really need to make it
clear to my dad that it is not socially acceptable to use the term
"sexy" to describe websites or food....😐
I ordered a vanilla
latte at starbucks and they forgot to put vanilla in it so now I have
trust issues. 😒
there are no pockets in
my gown and im sitting next to a teacher so its gonna be hard to tweet
during high school graduation but ill try
Senior prank: don't
show up to graduation
Really though, if
teachers tell us that we can email them at any time if we have
questions, they should probably actually check their emails
How do people look cute
in convertibles? My hair goes everywhere and I get short of breath.
Not hot.
I most definitely
don't have summertime sadness
Eating guacamole and
cookie dough for breakfast while watching Long Island Medium. Is this
what they call "rock bottom"?
I JUST WANT TO CHECK MY
SNAPCHAT AND EVERY TIME I DO MY PHONE SPAZZES, TAKES AN AWKWARD SELFIE
OF ME AND PUTS IT ON MY STORY
Dad: "Oh yeah, I
tweet too. I also twerk."
When I die, my hologram
will probably be me sitting on the couch eating cheetos and not
reacting appropriately to things on TV
Follow HuffPost Teen on
Twitter |
Instagram |
Tumblr |
Pheed |
SUBSCRIBE AND FOLLOW
Get top stories and blog posts emailed to me each day. Newsletters may offer personalized content or advertisements.
Learn more