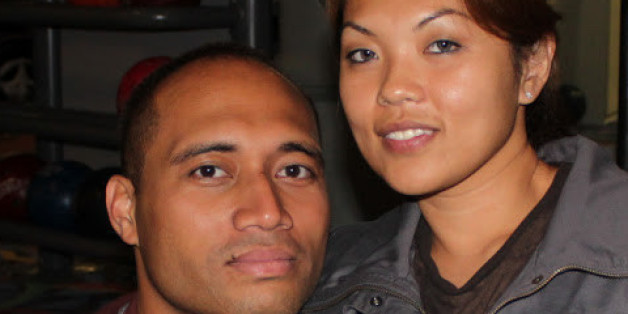 UPDATE: The Honolulu medical examiner has identified the man who died in a fiery car crash on May 19 in Central Oahu. The man was Eric Filiaga, Sheryll Filiaga's husband.
Two bizarre cases in Hawaii appear to be linked, and have Honolulu police investigating the murder of a 30-year-old woman whose husband, police believe, died in a separate fiery wreck.
According to Hawaii News Now, Sheryll Filiaga was found stabbed to death in her Honolulu apartment on May 21 while police were searching for the registered owner of an SUV involved in a fatal, single-vehicle crash two days earlier.
The 2011 Nissan Rogue, which was registered under Sheryll's name, had been driven into a metal utility pole in central Oahu on May 19, according to the Honolulu Star Advertiser. The SUV landed in a pineapple field where it burst into flames, burning the driver beyond recognition. Police suspect the driver was her 37-year-old husband Eric Filiaga and that he is responsible for his wife's death. No other suspects are being considered for her murder case.
Court records show the couple married in 2008 and then divorced in January of 2013, but friends told the Honolulu Star Advertiser that they believed the couple remarried in February 2013 and were not aware of any problems in the relationship.
Melissa Padilla, who co-owns a Maui-based wedding planning company with Filiaga, told KHON Sheryll began working with her about nine months ago.
The medical examiner said it will take about a week to confirm whether the man killed in the crash is, in fact, Eric Filiaga.
Hawaii News Now - KGMB and KHNL
Also on HuffPost:
10 Major Crimes That Shocked America (SLIDESHOW)
SUBSCRIBE AND FOLLOW
Get top stories and blog posts emailed to me each day. Newsletters may offer personalized content or advertisements.
Learn more