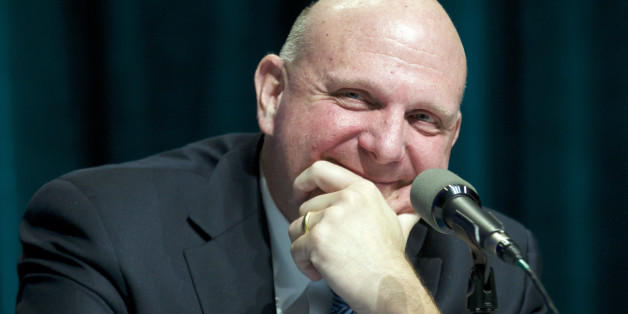 You see, the inventor of the Microsoft Office paperclip assistant Clippy wants to buy the Los Angeles Clippers. Get it? This woman does:
Steve Balmer buys the Clippers, the new mascot, "Clippy" will jump on the court and say "It looks like you're trying to shoot a 3-pointer",,
SiriusXM certainly gets it:
And Pete won't let a good Clippy joke get by him:
Historically inept Clippers bought by guy who green-lit Zune, Clippy.
How awesome would it be if Clippy became the new Clippers mascot? DO IT BALLMER
"Clippy" the notoriously awful Microsoft Word feature, sounds a lot like "The Clippers". Feels like there's a joke in there... I dunno.
Even our lovable boss, Emily, got in on the joke.
But then, people started to notice that there were a lot of Clippy jokes out there...
See, the thing is, Clippers is a similar word to Clippy.
And yes, anyone wondering, everyone on Twitter has made a Clippy joke about the Clippers already. But hey, don't let that stop you.
...and the Clippy jokes got snippy.
"It looks like you're trying to be humorous by comparing the words 'Clippers' and 'Clippy'... Would you like some help with being funny?"
Suddenly, people were calling for Twitter reform.
Twitter needs a feature which ensures that 1 person--and only 1 person--can make a joke as obvious as anything relating to Clippers/Clippy.
Next person to make a Clippy/Clippers joke will result in that person being unplugged from The Matrix.
The government decided to intervene.
BREAKING: President Obama to address nation and call for an end to Steve Ballmer Clippy jokes.
And we all realized we'd been laughing at this joke for too long.
Day 2: A weary public thought the worst was over. Still on edge, they thought they were safe. But "LA Clippy" jokes still sprang on Twitter
We wanted to believe it was over, but it was not.
Has everyone had a chance to tell the Ballmer + Clippers = Clippy joke? Are we done with that now?
I see you're trying to make a joke about Clippy. I can't help you with that.
SUBSCRIBE AND FOLLOW
Get top stories and blog posts emailed to me each day. Newsletters may offer personalized content or advertisements.
Learn more