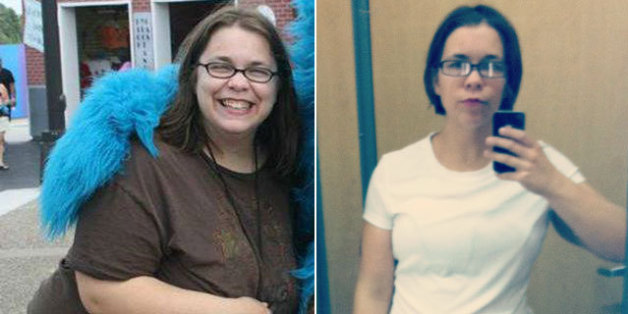 Got a success story of your own? Send it to us at success.stories@huffingtonpost.com and you could be featured in our I Lost Weight series!
Name: Gina DiGregorio
Age: 31
Height: 5'3"
Before Weight: 296 pounds
How I Gained It: I was always a skinny kid. My parents used to worry about me because I was so small and picky. As I got older, my appetite got out of control, but my metabolism seemed to compensate well until I turned 14, and then I started getting heavy. At 17, I did Weight Watchers and lost 20 pounds and looked and felt great.
My weight fluctuated wildly in my 20s. Years of binge eating, hiding food and complete inactivity caught up to me. I really started to gain weight when I stopped smoking in 2005. After I got pregnant and delivered my twin girls, I got down to my lowest adult weight, but depression kicked in, as it had done in the past, and I gained it all back, plus a lot more. I ate anything and everything. I would leave work a few minutes early and stop at the Taco Bell drive-thru and order a Nachos Supreme, a Stuft Burrito and a Doritos Locos Taco, plus an extra-large soda. I'd down it all in my car, then go home and tell no one and eat a full dinner. Sometimes I'd load up on junk at the gift shop at work and pay with three different wads of money so they didn't think I was buying it all for myself.
Breaking Point: A few co-workers decided to see one of the endocrinologists in my office who was now licensed to prescribe a new weight-loss pill. I had just turned 30 and was starting to feel like time was running out for me to change my life. I made an appointment in February 2013 and realized that I would have to get on the scale at check-in. I was petrified, as I had avoided it for about five years. When I stepped on and saw that I was a mere four pounds away from being 300, it was like a punch in the stomach. I knew that I had to change. I talked a lot with the doctor, and she gave me the prescription, but I knew what to eat to lose weight, so I decided to give myself a month to see how I did without the medication.
How I Lost It: The first thing I did was sign up for MyFitnessPal, a calorie-counting app and website. In the past, I had counted calories in order to lose weight, but it had been a few years, and now that I had an iPhone, so many great apps were available to me! I started walking more, which was very difficult at first, as any walking caused me a lot of back pain due to all the extra weight, but I kept going. I signed up for a local MS walk, which I had avoided the last few years because I knew I could barely walk a block. Four months into my weight loss, I walked the three miles and it felt really, really good.
I continued to watch my calorie intake, trying to eat more whole foods, but still having my "treats". I did Jillian Michaels' 30 Day Shred workout. It took me longer than most people, as I took days off, but I did finish it. I felt wonderful and joined a gym. I started a Facebook page for my weight loss and started getting some followers, which felt awesome. Next, I signed up for my first 5K and began running. By the day of my race, I weighed 199 pounds. It felt wonderful to cross that finish line with my sister!
My life has changed dramatically. I went from barely being able to walk, to running and riding a bicycle. I can play with my children, chase them around, dance with them and keep up with them. My blood pressure was high before I started, and now it is perfect. I went from an XXXL top and size 24 pants to a small or medium top and size 10 pants. I've run a second 5K and signed up for 10K. I still have a bit more weight to lose, but I feel wonderful! One of the greatest things about this journey, for me, is when people tell me how inspired they are by me. I can't imagine that I am an inspiration to people, but it's an incredibly rewarding feeling!
Current Weight: 159 pounds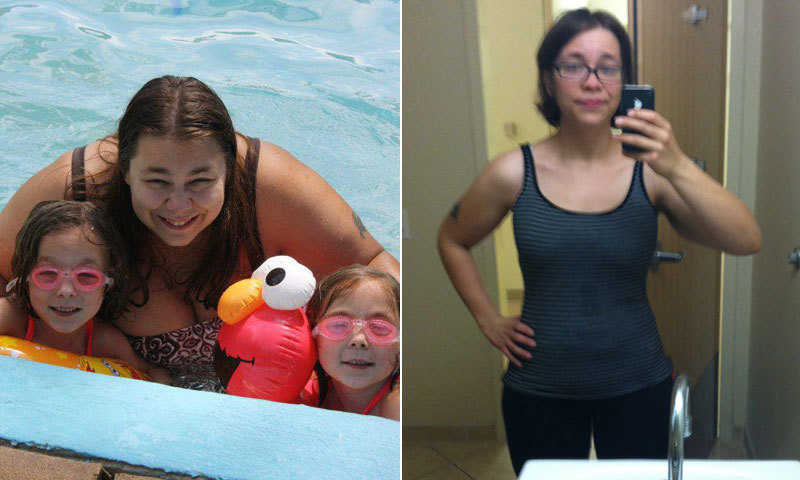 The Huffington Post publishes photographs as they are submitted to us by our readers.
Check out more of our inspiring weight loss stories below:
PHOTO GALLERY
BEFORE YOU GO
Weight Loss Success Stories
PHOTO GALLERY
Weight Loss Success Stories
As told to Sarah Klein.