Greg Guthrie and his family recently came home to Washington, D.C. from a long weekend away to find an unexpected visitor on their porch: a very small turtle in a very large plastic cup.
"Sitting there between our screen door and our front door was a red Solo cup," Guthrie says. "I looked down and saw that it had some dirt in it as well as something about the size of a peach pit. Thinking someone had oddly left some trash on my front porch, I picked up the cup and was startled to see the peach pit move. I turned on the light and noticed that it was, in fact, a tiny turtle."
Guthrie was first relieved that the turtle hadn't died before he'd gotten home. Wanting to keep it that way, he next checked with Capitol Hill neighbors to see if any of them had thoughts on how to take care of the turtle, "since they seem to know a lot about such things."
"They quickly filled a wash basin with pebbles, stones, leaves and some water from their rain barrel. Then we fed the little turtle some earthworms from their compost pile," he says.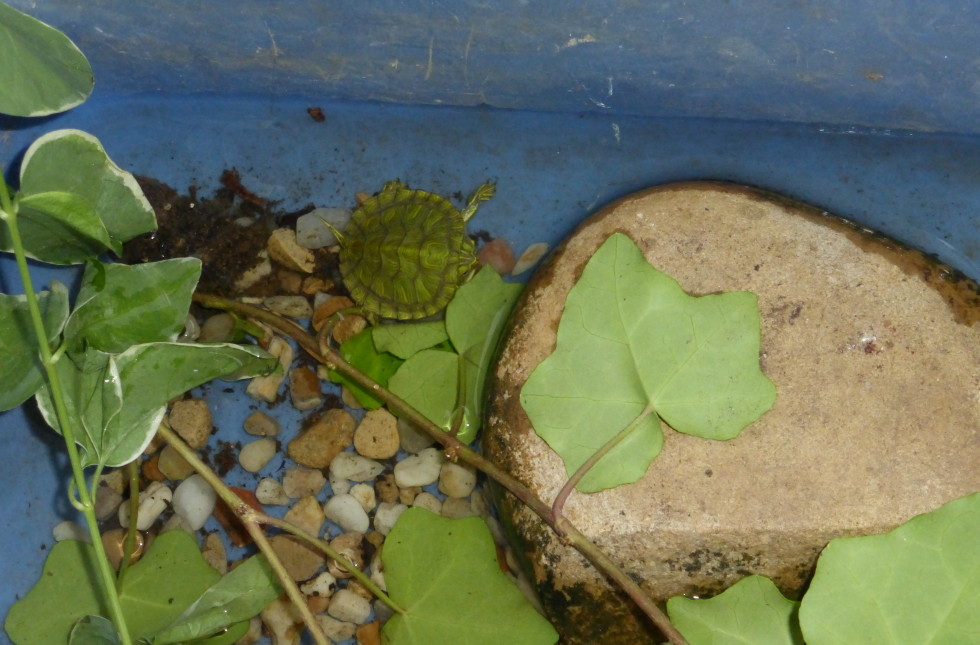 The turtle in question. Photo by Greg Guthrie.
So far so good, to a point. Guthrie and his wife weren't seeking a turtle pet. They also have "no interest" in returning the turtle to its original owner, for obvious reasons. They've thought about driving to the Anacostia River to "return it to the wild," Guthrie says -- only that isn't the turtle's actual wild.
"These turtles are raised on farms and are sold to the pet trade. They carry parasites and disease which impact native populations of reptiles and compete with native species for food and habitat," she says. "Also, the turtle looks very small and could easily get attacked or eaten by a neighborhood cat or dog or a predatory bird."
That leaves the Guthries with getting in touch with animal control, or relocating the bitty fellow to a local animal shelter. Except for yet another pint-sized hitch.
"Now my two-year-old son is fascinated by the turtle. He stared at it for a long while when we brought it inside, and he quietly whispered, 'Hi, little guy.' So, we may have adopted a new pet for the house," says Guthrie. "Since the turtle's future with our family is uncertain, we've avoided giving it a proper name. I suppose 'Little Guy' works for now, but given how things often turn about, it's probably female."
Email arin.greenwood@huffingtonpost.com with news to share about turtles or any other animals!
FOLLOW HUFFPOST