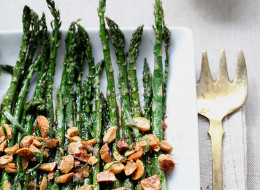 Hey, guys. You know what is great? Butter. You know what is better? Brown butter. If you've never made brown butter, it is definitely time for that to change. By cooking butter over low heat, past the melting point, until the milk solids begin to brown and the whole thing smells kind of nutty, you open a door into a whole new world of butter consumption. (There's a reason the French call it "beurre noisette," which roughly translates to "hazelnut-colored butter.") Did you hear that, guys? We said a whole new world of butter consumption.
Recently, on HuffPost Live, Andrew Zimmern questioned whether we need more ways to eat butter. When we're thinking about brown butter recipes, we like to think of that great thing Michael Pollan likes to say, "Eat whatever you like, as long as you cook it yourself."
The most amazing thing about cooking with brown butter is how versatile it is. You can sneak this stuff in anywhere you'd use regular butter, to add an extra layer of nutty, toasty, butter flavor -- from breakfast, to dinner, to dessert. Go forth and brown some butter!
Orecchiette With Brussels Sprouts Walnuts & Brown Butter

Alexandra Cooks

Fontina And Spinach Baked Eggs With Garlic Brown Butter Breadcrumbs

How Sweet It Is

Banana-Walnut Pancakes With Maple-Cinnamon Brown Butter

Flat Art Studios

Butternut Squash Gnocchi With Sage Brown Butter

Alexandra Cooks

Roasted Strawberry Brown Butter Pancakes

How Sweet It Is

Crunchy Quinoa, Toasted Almond And Dark Chocolate Brown Butter Granola

How Sweet It Is

Swordfish With Brown Butter Balsamic Sauce

Bell'alimento

Brown Butter-Roasted Sweet Potatoes With Arugula And Bacon

Nicole Franzen/Food52

Apple Brown Butter Jalouise

Always With Butter

Brown Butter Tomatoes

Joseph DeLeo/Food52

Seared Sea Scallops With Browned Butter Caper Sauce Recipe

Simply Recipes

Roasted Asparagus With Browned Butter

Foodie Crush

Creamy Tomato Soup With Brown Butter Garlic Croutons

How Sweet It Is

Brown Butter Halibut Orzo And Mushroom Broth

A Spicy Perspective

Orecchiette With Brown Butter, Broccoli, Pine Nuts And Basil

Quentin Bacon

Almond Torte Mascarpone Ice Cream With A Brown Butter Almond Crunch

How Sweet It Is

Broiled Lobster Tail With Brown Butter Sauce

Simply Recipes

Brown Butter Spiced Ale

James Ransom/Food52

Roasted Tomato and Caramelized Onion Farro Salad with Brown Butter

Breanna's Recipe Box

Brown Butter Popsicles

A Beautiful Mess

Beehive Cake (Brown-Butter Banana Cake And Honey Buttercream)

Zoë Bakes

Brown Butter Snickerdoodles

Bakergirl

Summer Corn Ravioli With Lime Brown Butter

sarahmcsimmons/Food52

Brown Butter And Cheddar Apple Pie

Melanie Einzig/Food52

Apricot, Almond and Brown Butter Tart

Tina Rupp

Pan Fried Artichokes In Lemon Garlic Brown Butter

Nicole Franzen/Food52

Pan Fried Ravioli With Brown Butter Herb Sauce

Bell'alimento

Browned Butter Glazed Cinnamon Donuts

Buns In My Oven
Want to read more from HuffPost Taste? Follow us on Twitter, Facebook, Pinterest and Tumblr.