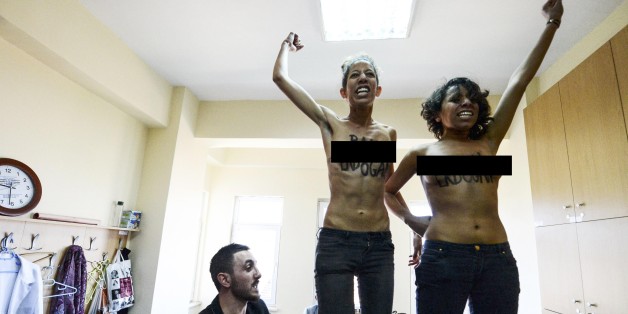 AFP/Getty Images
The topless activists briefly disrupted municipal elections in March when they entered a polling station in Istanbul, where the prime minister was expected to vote. With "Ban Erdogan" written across their breasts, the two women stood on a table and yelled out the slogan to protest the criticized leader's reign.
Inna Shevchenko, a Ukrainian activist and leader of the women's movement, shared the news on Twitter.
One of the activists, Duvelle-Charles, also took to the social network after the indictment was made public.
Since I'm already condemned to jail sentence, I guess now is the time to shout : BAN ERDOGAN! pic.twitter.com/ygt6zOs0B8

— Elvire D. Charles (@ElvireDCharles) June 5, 2014
It has been more than a year since protests against Erdogan and the Turkish government broke out across the country. On the one-year anniversary of the nationwide demonstrations Saturday, Turkish police used tear gas on supporters of the opposition who had gathered in Istanbul and Ankara.
Also on HuffPost:
May Day Clashes In Istanbul
FOLLOW HUFFPOST