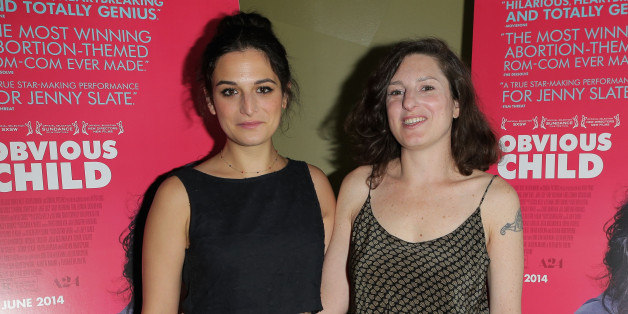 Romantic comedies have become so rare that when the trailer for "What If" with Daniel Radcliffe and Zoe Kazan premiered last week, Vulture's Amanda Dobbins wrote, "It looks like someone actually made a rom-com in 2014?" Indeed, a genre that produced some of the most loved films of all-time -- anything written by Nora Ephron, for instance -- has all but disappeared from the multiplex. This is the world that "Obvious Child" enters into on Friday, following six successful months on the festival circuit.
"It is 100 percent made to be a romantic comedy," director Gillian Robespierre told HuffPost Entertainment when asked if she would consider her new film part of Hollywood's once-favored genre. "That's a genre I love, and we just took that style -- boy meets girl -- and put a little twist on it. We messed it up a little bit. I hope people call it a romantic comedy, and I'm proud to have it called that."
"I'm so neurotic that I'm sure there's backlash out there," the director said about her film, which debuted at this year's Sundance Film Festival to near-universal praise. "Not just from the right, but from people who think scatological jokes are lowbrow or unintelligent and everyone who makes them are boring neanderthals. But! Those people are not fun people. Farts are funny. I think you're kind of a robot if you don't think so. You don't have to love the movie, but you have to love a fart sound."
Robespierre has such a fondness for fart sounds that she includes one in her movie's meet-cute: Donna's one-night stand, Max (Jake Lacy from "The Office"), accidentally farts in her direction while she's squatting to pee in the street. (It later earns him the nickname "Pee Farter.")
"I like our movie because I think that it's satisfying in the way that traditional rom-coms are satisfying, but that it's storyline is just more modern and less squeaky clean," Slate said. "But it's not trying to be shocking."
"When we saw her on stage, before we started working on the short, we felt like she was saying what was going on in our head," Robespierre said of finding her lead actress. "She was so funny and charming, and also beautiful and wearing dresses and very feminine. She was saying everything we thought, and always have been thinking, about our bodies and families and life. It was one of those moments where you wanted her to either be in a movie or be your best friend."
Playing a stand-up comic was not necessarily difficult for Slate, but she and Robespierre made sure that Donna had her own style.
"She doesn't realize that she doesn't have to put everything out there," Slate said. "She doesn't realize she's spraying the area and some people don't want to be sprayed. But it's also satisfying for her to put everything out there."
Robespierre structures "Obvious Child" around three stand-up routines. The first introduces Donna and her openness with jokes about her then-boyfriend and life views in general. (She is pro-farting, as it turns out.) The second is more of a meltdown, with Donna lashing out after being dumped. The third happens the night before her scheduled abortion procedure.
"That to me was totally alien to me. I wouldn't do that," Slate said of the final performance, where Donna reveals to an audience of mostly strangers that she's having an abortion. "I might do it after the fact. But, in general, I tend to not bring up subjects that seem like hot-button issues in my standup. Because I feel like I have too much of my own personal shit to sort out first, and I don't feel that I'm up for it. I don't feel I have anything very funny to say about big issues. For Donna, she's not talking about a big issue. She's talking about herself. So that I relate to. I relate to her understanding that it is in her nature to be confessional. Her nature is not going to change, even though she has to go through a big experience."
"I don't even think about those things at all. I'm grateful that people are writing about the movie, but I don't walk around with a clear narrative of myself," Slate said of the opposing media designations placed upon her this year. "I literally just think about myself day by day. It sucks in a way, because I don't want to be labeled as someone. To me, it's not that simple. […] I can only do my shit."
Also on HuffPost:
2014 Summer Indies To Watch
SUBSCRIBE TO & FOLLOW ENTERTAINMENT
Get top stories and blog posts emailed to me each day. Newsletters may offer personalized content or advertisements. Learn more