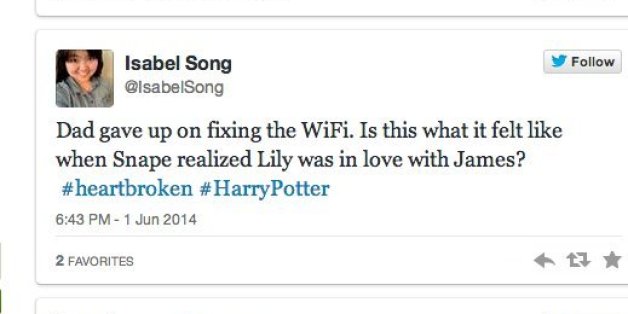 Every week, we round up the best 140-character quips and insights from our esteemed blogging team -- and other equally awesome teen tweeters. Scroll down to read the latest batch and share your own suggestions by following @HuffPostTeen!
This week's tweet roundup was compiled by Zainub Amir. She's an 18-year-old insightful teen from Albany, New York. She loves coffee, kittens, updating for Taylor Swift, spending time with my family, cooking, writing for HuffPost Teen and she hopes to travel the world one day -- particularly by air ballooning.
Second semester senioritis really only happens when a teacher assigns a paper/presentation due a week before school ends.
I'm obsessed with Taylor Swift's short hair like I can't actually deal with how perfect she is
I think my mum is becoming concerned with how often I say "I regret nothing" to myself
"The Fault in Our Stars? Is that about astrology?" -Grandpa
My dad just asked me if I wanted some organic licorice. Send help asap.
Srsly need 2 prepare b4 I c #TheFaultInOurStars. HYDRATE, BUY tissues, REMOVE eye makeup, WEAR COMFY clothing 2 curl up, remember 2 BREATHE.
Seriously considered filibustering my own French presentation today
I really am craving tacos right now...and chocolate....maybe just all food?
i love how many weird people are in New York
Any picture is funny once you zoom in on someone's face
Like I just found nutella on my arm
This woman just called for her grandson "Atticus" to come across the street and catch up with her. I literally screamed, "I LOVE HIS NAME."
the best kind of news story is one that could also double as the plot of a children's book
Holding my phone in a pitch black room the moths are dive bombing me
The only money I have is in a large change jar which I have used to pay for everything this weekend
there is an ashtray in my dressing room at this festival and i have left it full of strawberry ends
Dad gave up on fixing the WiFi. Is this what it felt like when Snape realized Lily was in love with James? #heartbroken #HarryPotter
I love the lack of tastebuds after eating a massive pack of Sour Patch Kids
Follow HuffPost Teen on
Twitter |
Instagram |
Tumblr |
Pheed |
SUBSCRIBE AND FOLLOW
Get top stories and blog posts emailed to me each day. Newsletters may offer personalized content or advertisements.
Learn more