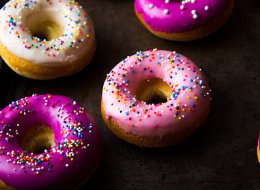 There are a lot of great breakfast pastries out there, guys. But none of them, not even the holy of holiest of French pastries -- the croissant -- can stand up next to a good donut. We know that the croissant is flaky, buttery and, well, French, but donuts are doughy, sugary and, sometimes, chocolate frosted. When you sink your teeth into a freshly-made, still-warm donut it tastes like pure joy. Especially when they're homemade.
On National Donut Day, a food holiday of the utmost importance, we want everyone to embrace the joy of this pastry and make as many donuts at home, from scratch, as possible. While we admit that this is a lot more work than driving to your local Dunkin' Donuts or Krispy Kreme, you'll be amazed to see that donuts are even better than you thought humanly possible.
Go bake donuts -- and finally discover their true greatness.
Chocolate Glazed Donuts

Jenny Hobick

Vanilla Cream-Filled Doughnuts

Brown Eyed Baker

Old-Fashioned Sour Cream Doughnuts

Handle The Heat

Baked Nutella Doughnuts With Nutella Glaze

Cooking Classy

Blackberry Jam & Custard Donuts

The Sugar Hit

Copycat Krispy Kreme Doughnuts

Cooking Classy

Chocolate Cake Donut Holes

How Sweet It Is

French Toast Doughnuts

Bakingdom

Dark Chocolate Cake Donuts With A Blood Orange Glaze

Lakyn + Judah

Peanut Butter Cream Filled Doughnuts

How Sweet It Is

Packzi

Brown Eyed Baker

Chocolate-Frosted Cake Donut

How Sweet It Is

Baked Vanilla Bean Doughnuts

Cooking Classy

Donuts With Burnt Caramel And Sea Salt

White On Rice Couple

Matcha Green Tea Donuts

A Beautiful Mess

Apple Fritter Doughnuts

Brown Eyed Baker

Baked Gingerbread Mini Donuts

Pinch of Yum

Easy Raised Donuts

Butterfly Foodie

Nutella Filled Sugar Donuts

Buns In My Oven

Mini Maple Bacon Donuts

How Sweet It Is

Cranberry Orange Donuts

Wanna Be A Country Cleaver

Cinnamon Roll Baked Donuts

Buns In My Oven

Lavender Donuts With Wild Blueberry Glaze

Kait Turshen/Food52

Jelly Filled Honey Lemon Doughnuts

Chasing Delicious

Baked Red Velvet Cake Doughnuts

How Sweet It Is

Baked Donuts Rolled In Cinnamon Sugar

Brown Eyed Baker

Sweet Potato Pecan Pie Doughnuts With Roasted Pecan Crunch

How Sweet It Is

Brown Butter Glazed Cinnamon Donuts

Buns In My Oven

Pina Colada Baked Donuts

Today's Nest

Peanut Butter Glazed Brownie Doughnuts

Simply Scratch

Samoa Mini Doughnuts

Southern FATTY/Food52

Apple Cider Donuts

Buns In My Oven
Want to read more from HuffPost Taste? Follow us on Twitter, Facebook, Pinterest and Tumblr.