California Chrome Co-Owner Slams Tonalist's Belmont Win As 'Cowards' Way Out' (VIDEO)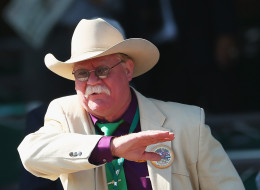 The Triple Crown drought continues and California Chrome co-owner Steve Coburn doesn't think it will end any time soon because of "cowards."
Moments after California Chrome finished tied for fourth place at the Belmont Stakes on Saturday, Coburn delivered a harsh rebuke to Belmont winner Tonalist as well as the entire world of horse racing. Coburn fumed over the fact that rested horses who did not participate in all legs of the Triple Crown are permitted to compete against those who have made the grueling trek from Churchill Downs to Pimlico and finally on to Belmont Park.
"I'm 61 years old and I'll never see in my lifetime another Triple Crown winner in my lifetime because of the way they do this." Coburn said after Chrome's finish ensured the drought will reach 37 years. "It's not fair to these horses who have been in the game since Day 1."
Tonalist, who finished 1 3/4 lengths ahead of Chrome to win the 146th Belmont Stakes, had not raced in either of the first two legs of the Triple Crown, resting since the Peter Pan Stakes on May 10. Of the 11 horses that left the gates in the 146th Belmont Stakes, just three -- California Chrome, General A Rod and Ride on Curlin -- ran in the Kentucky Derby and the Preakness Stakes.
"It's all or nothing," Coburn said. "It's all or nothing because this is not fair to these horses that are running their guts out for these people and for the people who believe in them. This is a cowards' way out, in my opinion. This is the cowards' way out."