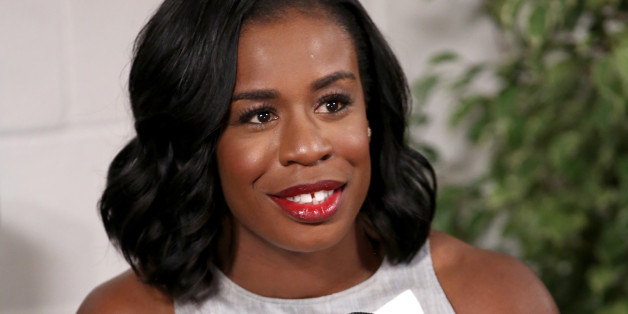 Spend your weekend in a black hole watching the entire second season of Orange Is the New Black? You've likely got binger's remorse: Those 13 hours at Litchfield Penitentiary were predictably incredible, but now, as you owlishly blink your eyes and head into a dreary Monday, you're feeling a bit bereft. You've been waiting a whole year for this, and in one fell swoop click of your remote, it's all gone.
While we can't turn back the clock and give you those episodes back, we can provide you with a little something to make the pain go away. No, it's not a pharmaceutical — we're delivering a healthy dose of Crazy Eyes, a.k.a. the lovely and talented Uzo Aduba, who brings everyone's favorite cuckoo-for-Cocoa Puffs character to such multidimensional, emotional, flat-out-awesome life. Also, she can really chuck a piece of pie.
On a recent photo shoot with the star, we couldn't help but notice that Aduba's got a stellar beauty game. But, thanks to her, shall we say, pared-down beauty look on OITNB, we don't see nearly enough of Aduba in full-on-glam mode. That simply will not do. Attention, Hollywood: Please make this gorgeous, hilarious, and brilliant woman a regular red-carpet fixture. (Also, an Emmy would be nice.)
SUBSCRIBE AND FOLLOW
Get top stories and blog posts emailed to me each day. Newsletters may offer personalized content or advertisements.
Learn more