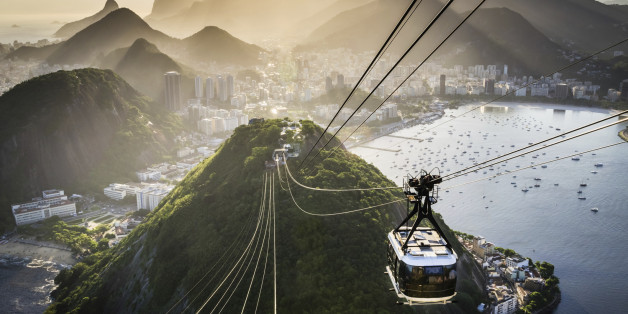 When the Brazil and Croatia national sides kick off the World Cup on Thursday, the players on the field won't be the only new things since the last time Brazil hosted the World Cup in 1950. Cleats, the stadiums and even the humble soccer ball itself have changed. But even more important than soccer equipment, average temperatures in Brazil for June and July, when the tournament is played, have also changed. And that change has trended upward, just as it has worldwide.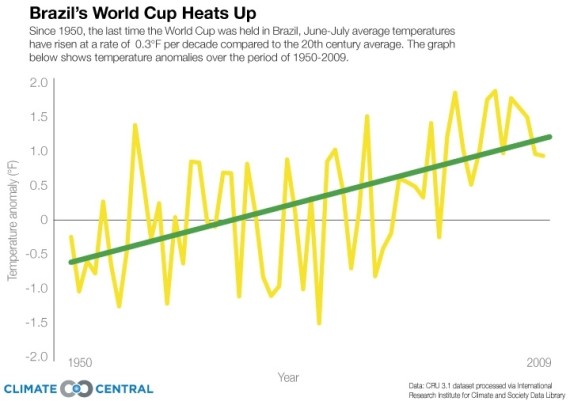 June-July average temperatures have risen at a rate of 0.3°F per decade since 1950 in Brazil. Much of that rise has come since the 1970s, which is in line with the overall global trend. The analysis is based on temperature anomaly data processed using the International Research Institute for Climate and Society's Data Library. That same data also show yearly temperatures have also risen roughly 1.4°F since 1950.
Brazil's winter, which runs from June-August since it's below the equator, is tied with Brazilian summer for the country's fastest-warming season looking at the period of 1960-2010 according to a UK Met Office report. The eastern third and northwest of the country are where much of the warming is occurring. It's also worth noting that the Amazon, which covers much of Brazil's center, is data-sparse and so trends are harder to detect and less certain.
While there's a notable upward trend in temperatures, there's also plenty of year-to-year variability. And if you're handing out red cards for this influence, then look no further than El Niño and its tropical opposite, La Niña. The eastern part of the country generally sees warmer temperatures when El Niño occurs, particularly from June-August. If El Niño is in place from December-February, the northeast also tends to be dryer. La Niña has the opposite effect, increasing the odds of cooler weather in the east and wetter weather in the northeast.
If history is any indication, the World Cup isn't likely to have lasting economic benefits for Brazil, but with an El Niño on the horizon later this summer, it's possible that temperatures could ratchet up. And if it persists through the end of the year, agriculture in the Northeast, which is already suffering through a severe drought, could be further impacted.
The increase in Brazil's winter and yearly average temperature is in line with the global trends fueled in large part by human greenhouse gas emissions. That might have you wondering what the future could hold should Brazil host the Cup on the 100-year anniversary of its first hosting gig in 1950. Climate projections from the latest Intergovernmental Panel on Climate Change show temperatures across much of Brazil may rise more than 5°F by mid-century unless human greenhouse gas emissions are curbed.
Related on HuffPost:
Connect The Dots On Climate Change
SUBSCRIBE TO & FOLLOW THE MORNING EMAIL
The Morning Email helps you start your workday with everything you need to know: breaking news, entertainment and a dash of fun. Learn more