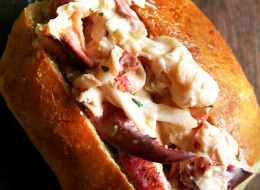 A lobster dinner is a luxurious event -- usually reserved for celebrations. (Unless of course, we're talking about lobster rolls which we should all try to eat as much as possible.) Unfortunately, lobster isn't cheap, so you can't eat it on the regular like you would chicken. But reserving lobster for rare occasions makes it that more special -- and makes it taste that more delicious.
Making lobster at home is one way to cut down on the cost, of course. And it also makes the meal more rewarding. We know you're thinking that making lobster at home is no easy feat. We've put together a collection of lobster recipes, however, that are simple and delicious -- so you can enjoy lobster as often as you want, just because it tastes good.
Here are 28 lobster recipes to try out this summer.
Creamy Lobster Risotto

Food Blogga

Maine Lobster Roll

My Mans Belly

Lobster Diavolo

Nicole Frazen

Grilled Lobster With Miso Butter

Betsy Life

Lobster Mac And Cheese

Annie's Eats

Creamy Lobster Soup

www.soupchick.com

Buttered Lobster Tail With Truffle Oil Popcorn

Noshing With The Nolands

Brown Butter Lobster Ravioli with Tomato Cream Sauce

Half Baked Harvest

Lobster Salad With Avocado, Corn And Tomatoes

LittleRedKitchen

New England Lobster Rolls

James Ransom/Food52

Butter Poached Lobster With Fresh Tomatoes

Steamy Kitchen

Lobster Salad

cristinasciarra

Lobster Bisque

Live Love Pasta

Beer And Butter Poached Lobster With Saison Risotto

The Beeroness

Seared Lobster Tails With A Garden Vegetable Sauté

Bev Cooks

Lobster Rolls With Homemade Tarragon Mayonnaise

Alexandra Cooks

Lobster Ravioli, Pea Shoots And Smoked Paprika Sauce

Amy Glaze's Pommes D'Amour

Cajun Lobster Pasta

mommiecooks

Fresh Lobster With Potatoes And Corn

Bev Cooks

Broiled Lobster Tails With Manila Clams And Corn

Taste with the Eyes

Cold Lobster Gazpacho With Sun Dried Tomatoes And Basil

Melissa Abbott

Lobster Ravioli In Lemon Butter With Saffron

Jenny Steffens Hobick

Lobster Etouffee

Foodie Crush

Kennebunkport Lobster Grilled Cheese

FoodieCrush

Lobster Mac and Cheese

FoodieCrush

Connecticut Style Lobster Rolls

bell'allimento

Chilled Lobster Salad with Sweet Summer Corn and Tomatoes

Skinny Taste

Pan-Roasted Lobster with Chervil & Chives

Steamy Kitchen
Want to read more from HuffPost Taste? Follow us on Twitter, Facebook, Pinterest and Tumblr.