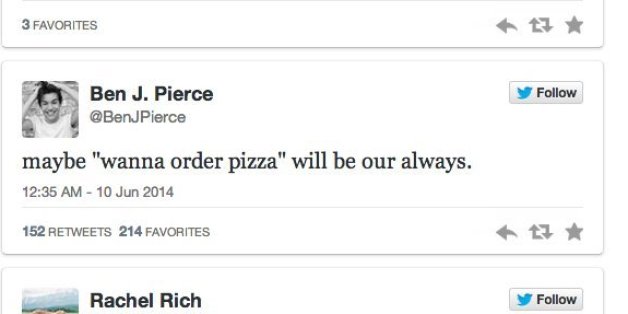 Every week, we round up the best 140-character quips and insights from our esteemed blogging team -- and other equally awesome teen tweeters. Scroll down to read the latest batch and share your own suggestions by following @HuffPostTeen!
This week's set that covers everything from the funny and the face-palm worthy to the general struggles of teen life and anything in between has been compiled by Tara Subramaniam (@tara_supersub), a teen journalist who loves writing and the Internet.
On a scale of one to Sansa Stark how much do you regret your childhood crush
just had to send an email that said "no one ever asks a guy to sit on top of a piano" 😒
"It's like "the notebook", but in space?" - a teenage boys' interpretation of what the fault in our stars is probably about
maybe "wanna order pizza" will be our always.
I don't have any more ice cream and that does not fly
Nothing relieves stress like swinging a sledgehammer
I am busy in the sense that I haven't even gotten my permit yet and I turned 16 over 8 months ago. 🚙
WRGFQH3IRGHWEIRHGEIW UGHHHHH3IQF JRQWGKHU3RHIUEGT UGHHHHHHHHHHHHHHHHHHHHQEURGHERIUGHEIHRGIEURHGRWTEHWioefqngoethbgriebg UGHHH
Bae are you there? No seriously do you exist
I just ate a single mozzarella stick for breakfast how have you changed the world today
Wearing my shirt inside out am I "edgy" yet?
Follow HuffPost Teen on
Twitter |
Instagram |
Tumblr |
Pheed |
SUBSCRIBE AND FOLLOW
Get top stories and blog posts emailed to me each day. Newsletters may offer personalized content or advertisements.
Learn more