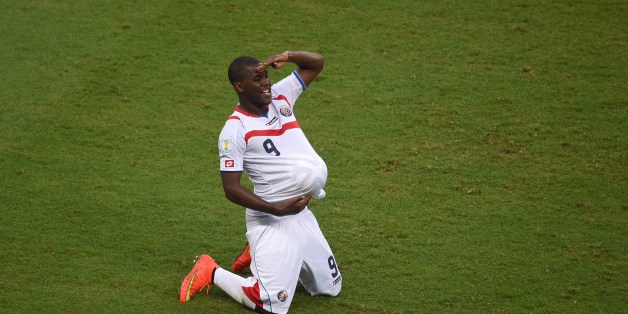 World, meet Joel Campbell.
The 21-year-old striker for Costa Rica emerged as an early breakout star at the 2014 World Cup by contributing an emphatic goal, an incisive assist and an epic celebration to his team's 3-1 upset of Uruguay at Estadio Castelao in Fortaleza during the third day of the 32-team tournament.
"Happiness," is the word Campbell chose to describe his feelings after the match, via MLSSoccer.com. "Despite the fact that they were winning 1-0 we stayed positive. We knew that we were going to win."
A rising star on in the international stage, Campbell had scored for his country in the Gold Cup, Copa America and U-20 World Cup before arriving in Brazil. The San Jose-born attacker was signed by Arsenal as a 19-year-old in 2011 after making his professional debut with Saprissa in his hometown in 2009. Having been loaned out to other clubs in each of his three seasons since being signed, he has yet to make his debut for manager Arsene Wenger's Premier League side. That may change after what happened in Fortaleza.
Here is everything you need to know about Campbell's unforgettable World Cup debut:
Campbell Scored The Game-Tying Goal For Costa Rica
(GIFs via @FlyByKnite)
Campbell Executed An ... Interesting ... Goal Celebration
(GIFs via @cjzero)
Campbell Created Costa Rica's Third Goal With A Beautiful Pass
Costa Rica have scored 3 goals for the 1st time ever in the World Cup. Campbell's brilliant pass is put away by Urena
http://t.co/j99lls8on3
Everyone Went Nuts Calling For Campbell To Head For North London
Dear Arsene, Bring Back Joel Campbell. Your Sincerely. Every Arsenal Fan.
Joel Campbell has to return to Arsenal. Outstanding.
Joel Campbell is playing well, makes you wonder how Sanogo is our number two striker.
JOEL CAMPBELL!!! He's ours!!!
This bloke Joel Campbell is on Arsenal's books, always being sent on loan, with a better shot on him than any Arsenal forward
Even The Official Arsenal Twitter Account Noticed Campbell
Campbell Made Everyone Happy By Talking About His Arsenal Return
"Of course I have to go back because I have a contract with Arsenal," Campbell told reporters after the game on Saturday, via Goal.com. "But the most important thing just now is my country and the World Cup."
He Also Told His Fans -- The Old And New -- That He's Not Done In Brazil
Also on HuffPost:
PHOTOS: Costa Rica vs. Uruguay
SUBSCRIBE AND FOLLOW
Get top stories and blog posts emailed to me each day. Newsletters may offer personalized content or advertisements.
Learn more