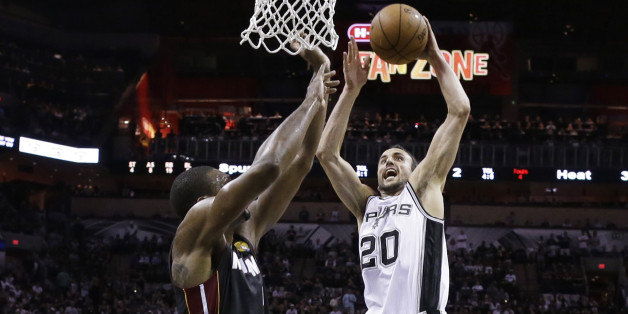 San Antonio star Manu Ginobili certainly didn't look like he was 36 years old when he threw down a thunderous one-handed dunk over Miami's Chris Bosh in Game 5 of the NBA Finals.
Tim Duncan grabbed a defensive rebound and quickly got the ball to the Argentine guard. Taking the ball down the court with all five Heat players in front of him, Ginobili drove between Udonis Haslem and Ray Allen. Chris Bosh was the only one left to stop him, but Ginobili rose up and threw down a left-handed dunk, capping a 14-0 run by San Antonio. By knocking down a three-pointer on the next possession, Ginobili completed his own personal 8-2 run within less than two minutes.
SUBSCRIBE AND FOLLOW
Get top stories and blog posts emailed to me each day. Newsletters may offer personalized content or advertisements.
Learn more