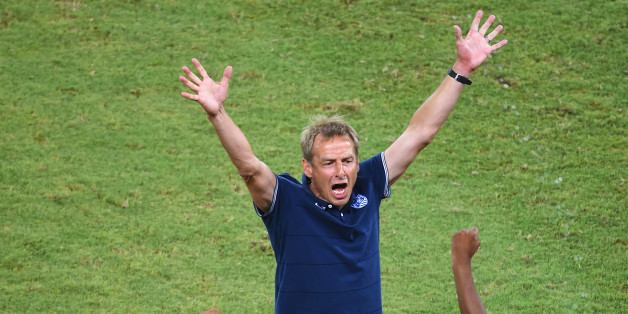 U.S. Soccer coach Jurgen Klinsmann took a lot of heat during the run-up to the World Cup. With the world watching, he then did a lot of celebrating during his team's opening triumph in Brazil.
(GIF via @cjzero)
In its first match of the 2014 World Cup, Klinsmann's squad flashed enough skill -- Clint Dempsey's early goal -- and resilience -- John Brooks' late goal -- to spark celebrations from Natal to Seattle. When his players succeeded there was arguably no one celebrating as enthusiastically, from sea to shining sea, as Klinsmann. Following Dempsey's breakthrough goal just moments into the match, Klinsmann's mixture of euphoria, surprise and adrenaline is something that every American soccer fan can understand. After the final whistle sounded on the United States' 2-1 win at Estadio das Dunas in Natal on Monday evening, Klinsmann could be seen embracing his coaches and players on the field.
(GIFs via @FlyByKnite)
With their coach exhorting them from the sideline, the U.S. players persevered through injuries and delivered an emphatic answer to a late equalizer from Ghana, a team that has broken red, white and blue hearts at the World Cup before. Even after the celebrations subsided, Klinsmann was still riding high and let all of his followers on Twitter know about it.
amazing night in Natal !! our fans were all over the stadium !! FANTASTIC !! 3 points and now looking forward to Manaus !!!
SUBSCRIBE AND FOLLOW
Get top stories and blog posts emailed to me each day. Newsletters may offer personalized content or advertisements.
Learn more