Word was just announced that Icelandic songbird, human artwork and recent educational innovator Björk is slated for a multimedia retrospective at the Museum of Modern Art next year. We think a Björk-esque squeal is appropriate.
The exhibition, curated by Klaus Biesenbach, will feature over 20 years of Björk, expressed via sound, film, visuals, instruments, objects, costumes, and performance. Her seven full-length albums, from 1993's "Debut" to 2011's "Biophilia," will live alongside collaborations with other artists, fashion designers and directors.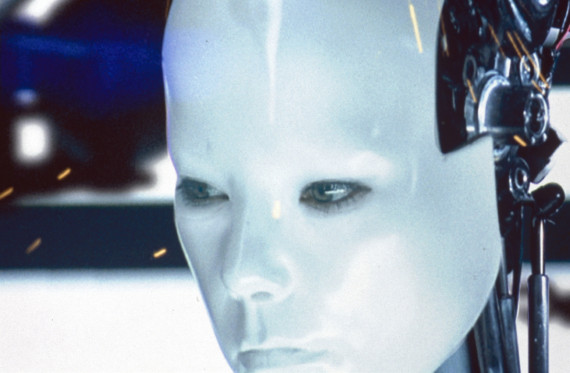 Still from the "All Is Full of Love" music video. 1999. Directed by Chris Cunningham. Music by Björk. Image courtesy of One Little Indian
According to MoMA, "the installation will present a narrative, both biographical and imaginatively fictitious, cowritten by Björk and the acclaimed Icelandic writer Sjón Sigurdsson." A semi-fictional retrospective? Yes, please.
Finally, the show will present a new "immersive music and film experience," a collaboration with "Mutual Core" director Andrew Huang and 3D design leader Autodesk. We're not sure exactly what to expect, but if it's anything like their previous work, expect some technologically warped apocalyptic nature-scapes that will haunt your dreams while seeming oddly adorable.
Klaus isn't the only MoMA front runner with a massive Björk crush. Paola Antonelli, senior curator of Architecture and Design, expressed her love for the experimental artist in a blog post announcing the museum's acquisition of the Biophilia app, MoMA's first ever app acquisition. "Björk has never ceased to experiment and surprise," said Antonelli. "The multidimensional nature of her art -- in which sound and music are the spine, but never the confines, for multimedia performances that also encompass graphic and digital design, art, cinema, science, illustration, philosophy, fashion, and more -- is a testament to her curiosity and desire to learn and team up with diverse experts and creators."
It's only been a few days since word spread that Björk's 2011 app-album, "Biophilia," will be transformed into The Biophilia Educational Programme, a non-academic school curriculum scheduled to spread across several European countries. The exploration-inducing app aims to "inspire children to explore their own creativity, and to learn about music and science through new technologies." We're glad to see the art world isn't letting the education world hog all the Björk brain magic.
Björk's retrospective will come to life in March 2015, around three years after Kraftwerk's 2012 show, which too explored the effects of experimental music on the future of image and sound. What avant-garde artists would you like to see snag their own art exhibition? Let us know your dream lineup in the comments.
"Heaven's bodies/whirl around me/make me wonder" The "Cosmogony" app resembles the welcome screen for the app, which features the different songs as constellations in space, or "heaven's bodies." It's home to an introduction to the entire Biophilia app, narrated by David Attenborough. He explains in his magnificent voice: "Just as we use music to express parts of us that would otherwise be hidden, so too can we use technology to make visible much of nature's invisible world. In Biophilia, you will experience how the three come together -- nature, music, technology. Listen, learn and create."

"As the lukewarm hands of the gods/came down and gently picked my adrenalin pearls/placed them in their mouths/and rinses all the fear out/nourished them with their saliva." According to its description, this app "connects musical structure, human biorhythms, and cycles of the moon and tides: a chain of musical pearls are played by water washing over them, pulled by the changing phases of the moon." You can either watch these pearls play the music by themselves, or you have the option of controlling them and adding your own layers to the song (tune in around the 30 second mark to see this).

"No one imagines the lightshock I need" On "Thunderbolt," your dreams of shooting lightning bolts out of your finger can come true. In the game portion of the app, you can, a.) create lightning bolts with a swipe of your finger, and b.) manipulate those bolts to make different sounds by gliding your fingers across the screen. Tap your finger to create a spark, drag one finger to draw a line of electricity, two to play an arpeggio and more than two for more complex arpeggios. Move your fingers up to change the speed and spread your fingers apart to change the notes. With all this, bear in mind that the songs you can create are not melodious, and mainly sound like variations on lightning bolts. But the aim here is less to make music and more to bring attention to the thunderbolt itself, which Bjork describes as "the most powerful and fantastic natural force that generates sound." (She even used a Tesla coil as an instrument on "Thunderbolt" to get this across.)

"It's the sparkle you become/when you conquer anxiety" "Crystalline" is the most video-game-like of the apps, a maze of catching crystals that happily brings to mind Katamari Damacy. As you fall through space, tilt the screen to add crystals to yourself (you are a cube) and bulk up into a larger mass. Apparently there are are tunnels you can unlock and a puzzle to be solved here -- it's implied that the reward is a movement from "emotional rigidity ('anxiety') to openness to others ('sparkle')" -- but we're not quite there yet.

No lyrics available On "Dark Matter," you touch little orbs to create music as dark matter swirls in the background. When you're in "song mode," you can create patterns on four different levels, and click on the levels to repeat the patterns. The only sounds you have to work with are organ sounds, making this clearly the most Halloween-y of the apps. Bjork, however, refers to "Hollow" as her "halloween song."

"Like a bead in necklace/thread me/upon this chain" The visualization on "Hollow" is a mindtrip (especially with the crisp clarity you see it in on the iPad app) taking you through the DNA chain, kind of like a more surreal Magic School Bus. Tune in at the 3:50 point to see a mystery face appear and then disintegrate, and to hear Bjork allude to "a beaded necklace," which is the main metaphor on this track -- she explains in the app: The DNA chain is "like (being) part of this everlasting necklace where you're just a bead on a chain and you sort of want to belong and be part of it and it's just like a miracle." Now imagine Bjork saying that in her Bjork voice.

Like a virus needs a body/as soft tissue feeds on blood/some day I'll find you" This is a love song in case you thought it was a song about sickness. Turns out, the two are related. Watch as viruses do their job here and attack cells, much like Bjork wants to attack her future lover. In another component of this app (seen around the 30 second mark), you can make viruses bounce around yourself to create what Bjork imagines they would sound like. Viruses have never been so adorable.

"Why can't you give her room?/respect her spatial needs/I feel you compress her/into a small space/with clairvoyance/she knew what you needed/and gave it to you" This is one of the most creative music-making apps on Biophilia, and should be more intuitive for users than the lightning bolts and orbs we used previously. Here, you can use notes to make sounds. Except this wouldn't be a Bjork project if the notes weren't letters and unrecognizable symbols. Each one is similar to a sound off "Sacrifice," whether it be Bjork's voice saying "you" "give" "her" "room" (an allusion to the song's theme -- "the sacrifice made by women for the sake of love") keyboards, or ambiguous synth noise. One great thing about making music with letters is that you can hear what your name sounds like. Not the most melodious in our case.

I shuffle around the tectonic plates in my chest/you know I gave it all/try to match our continents/to change seasonal shift/to form a mutual core" While not the most engaging interactive app, "Mutual Core" is one that most literally translates Bjork's concept for the track. She explains: "Earth's geology is transformed into a metaphor for human relationships. Opposing forces of compression and release, central to continent building and to human feelings, are expressed sonically." In the app, you merely bump these plates together to create music, and face some resistance in doing so. It's a simple concept, but it gets the point across. You can, however, adjust the "tectonic resistance" between the plates and bump away sans resistance. As a song alone, "Mutual Core" is one of the best on the album, especially when the changeover kicks in around the 2:00 mark (listen here).

"When your eyes/pause on the ball/that hangs on the third branch From a star/you remember why it got dark and why it is getting light again." "Solstice" was inspired by a Christmas poem Bjork's friend Sjoin wrote, in which he explains how the four seasons are a result of the earth's tilt, and compares the solar system to a Christmas tree. The app let's you indulge in this image -- you pull strings out of a central sun and flick planets around to pluck the strings. Then create layers by clicking on the four colors in the bottom left corner. In this image, you see our solar system turned on its side into "tree" mode, bringing the Christmas tree analogy into visual focus.