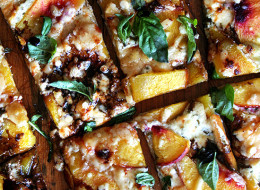 Fruit obviously lends itself to desserts. Fruit pies, fruit crumbles, fruit crisps. Fruit compote on cake, fruit in ice cream, fruit on its own. When it's hot and you need something refreshing, summer fruit -- from tart blackberries to sugary strawberries and juicy peaches -- just screams dessert. There's a savory side to summer fruit, however, that definitely deserves your attention.
Too many people forget or simply wouldn't think to put fruit in savory dishes. But fresh fruit, summer fruit in particular, can really add something special to your recipes. When combined with the right ingredients, summer fruit can take on a savory flavor that's far from dessert territory -- and just as good.
Once you try adding fruit to your savory dishes, you'll see what you've been missing all this time. We think summer fruit is the best fruit. Here are 41 savory fruit recipes so that you can eat summer fruit all the time.
Fontina + Blackberry Basil Smash Grilled Cheese Sandwiches

How Sweet It Is

Honey Grilled Watermelon Caprese Salads

How Sweet It Is

Succulent Steak, Nectarine And Red Onion Salad With Parmesan Crisps

HuffPost Taste

Chilled Avocado And Yogurt Soup With Melon

Taste

Cuban Avocado, Watercress, and Pineapple Salad

Food52

Salmon With Cantaloupe And Fried Shallots

Anna Williams/Food & Wine

Fig and Blue Cheese Tart with Honey, Balsamic, and Rosemary

Food52

Blueberry-Glazed Ribs

Petrina Tinslay/Food & Wine

Grilled Corn, Peach and Basil Salsa

How Sweet It Is

Grilled Tomatillo And Pineapple Salsa

Food52

Summer Chopped Salad With Quick-Pickled Vegetables

Kana Okada/Food & Wine

Grilled Watermelon Salad

Verses from my Kitchen

Beer Battered Fish Tacos With Margarita Mango Salsa

How Sweet It Is

Grilled Apricot, Arugula And Goat Cheese Salad

James Merrell/Food & Wine

Turkey Breast with Poached Plums

HuffPost Taste

Tomato, Olive, Peach And Parsley Salsa

HuffPost Taste

Grilled Scallops With Honeydew-Avocado Salsa

Kana Okada/Food & WIne

Tempeh With Apricots And Capers

Gentl & Hyers

Fig, Gorgonzola, and Honey Tartines

Tartelette

Green Melon, Cubanelle Peppers And Ricotta Salata

Ellen Silverman

Nectarine Pizza with Fresh Basil and Reduced Balsamic

Alexandra Cooks

Summer Salad Of Melon, Feta And Shrimp

Frances Janisch

Summer Berry Spinach Salad

FoodieCrush

Fried Mozzarella, Basil and Nectarine Stacks with Balsamic Glaze

Half Baked Harvest

Quinoa And Mango Salad With Lemony-Ginger Dressing

Food52

Plum Sauced Pork Tenderloin

Food52

Pickled Strawberry And Roasted Beet Salad On Ricotta

FoodieCrush

Sweet Potato Quinoa Cakes With Blackberry Salsa

How Sweet It Is

Fried Plantains

Food52

Bulgogi with Cucumber-Apple Pickle

Alexandra Cooks

Melon & Cucumber Salad with Mint Vinaigrette


Alexandra Cooks

Sausages With Tomato Relish And Melon Salsa

HuffPost Taste

Caramelized Pineapple Quesadillas

How Sweet It Is

Watermelon Gazpacho

Alexandra Cooks

Melon Pasta Salad

Macheesmo

Apricot Barbecue Sauce

Macheesmo

Canal House's Pork Belly with Gingery Rhubarb Compote

Food52

Smoky Heirloom Tomato And Grilled Peach Pasta Salad

How Sweet It Is

Grilled Pineapple Guacamole

Annie's Eats

Blackberry Chèvre Salad

Annie's Eats

Chilled Tomato Peach Soup

Food52

Peach, Bacon + Gouda Grilled Cheese Sliders

How Sweet It Is

Summer Corn and Nectarine Tabbouleh

Kitchen Confidante

Fig, Gorgonzola and Prosciutto Salad

The Culinary Chase

Buffalo Mozzarella with Balsamic Glazed Plums

Food52
Want to read more from HuffPost Taste? Follow us on Twitter, Facebook, Pinterest and Tumblr.