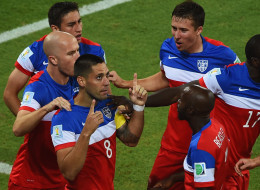 Both the United States and Portugal will be fielding a full lineup of 11 players when they take the field in a crucial group-stage match at the 2014 World Cup. But that won't stop the Group G clash from feeling like a game of 11 on CR7. With a chance to a secure a spot in the Round of 16 in Brazil, the U.S. men's national team will have to try to contain Portugal's Cristiano Ronaldo at Arena Amazonia in Manaus on Sunday.
"We have a lot of respect for Cristiano. He's a great player. But I think you have to respect for the whole team of Portugal," U.S. midfielder Jermaine Jones said on Friday. "When we stick together like a team and fight like we did it against Ghana, then I think we have chances to win this game."
Coming off a thrilling 2-1 win over Ghana in its opening game in Brazil, the United States has a chance to seal a spot a in the knockout stage with a win over Portugal. Having been thumped by Germany, 4-0, in its opener, Portugal arrived in Manaus in dire need of a positive result. A loss to the U.S. would eliminate Portugal from contention before it even played its final game in the "Group of Death."
Injuries and a suspension will force both teams to field a different starting 11 than in their openers. The United States will be without striker Jozy Altidore, who suffered a hamstring injury against Ghana. Portugal will be without Pepe, who was sent off against Germany, as well as injured defender Fabio Coentrao and injured forward Hugo Almeida. Ronaldo, the reigning Ballon d'or winner, has been dealing with lingering leg injuries but is in the starting lineup.
SCROLL DOWN FOR LIVE UPDATES, SCORES, HIGHLIGHTS:
Share +
No player criticized more than Jermaine Jones. Derided as a "Klinsmann favorite." He just scored one of best US WC goals I have ever seen

— roger bennett (@rogbennett) June 22, 2014
Didn't know Jermaine Jones had that in him. Remarkable. 1-1.

— Grant Wahl (@GrantWahl) June 22, 2014
JERMAINE JONES AMERICAAAAAAAAA

— SB Nation (@SBNation) June 22, 2014
A two-footed, studs up, hard as nails bullet from Jermaine Jones. DM me for more Jermaine Jones analogies.

— Mike Foss (@themikefoss) June 22, 2014
Jermaine Jones: The pride of Chicago, Illinois. And as of one minute ago, American hero.

— Grant Paulsen (@granthpaulsen) June 22, 2014