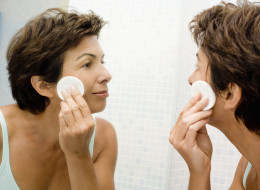 The largest organ in your body? It's your skin, which according to the experts occupies more than 21 square feet of surface space (think of an average-sized powder room). And it's not only expansive -- it also has heft, accounting for between six and ten percent your body weight.
In a word: Wow!
Needless to say, our skin demands our attention -- especially when it comes to keeping it healthy during the baking-hot summer months. Over the past few years, I've been enlightened and educated about skin care from an ample army of health and beauty experts who have appeared on my "Mondays With Marlo" series. So with a nod to the newly-arrived summer solstice, here's a round-up of tips from those who know about caring for your skin -- from the no-no's to the must-do's. Take a look!
Expert Summer Skin Tips And Tricks
According to Dr. Oz, Daytime Emmy Award winning host of "The Dr. Oz Show," the face and hands are the two areas that begin to show sun damage first. Your legs, body, and chest should have at least ten minutes of sun exposure prior to applying sunscreen, however, in order to allow your body to take in vitamin D from the sun. Always apply a layer of sunscreen to your face and hands before going outside. When selecting a sunscreen, be sure to choose a zinc or titanium based sunscreen, because they protect your skin for longer.

Beauty and style expert Bobbie Thomas swears by a two-product daily moisture regimen to keep her complexion radiant and healthy. She recommends finding one moisturizer with SPF for use in the morning and one with anti-aging properties for overnight use. Bobbie's philosophy: "Protect your skin during the day, then treat at night."

Saggy skin won't snap back after you lose weight, but celebrity fitness trainer Jackie Warner gave some ideas for increasing collagen production to help boost skin elasticity. Eating foods high in protein including, chicken, turkey, eggs and a ton of vegetables will help promote healthy skin.

Health and nutrition expert Joy Bauer says that any food that is very rich in iron, like shrimp and lentils, will improve your hair's appearance. Eating foods that are bright orange in color, like sweet potatoes or carrots, are good for your skin because they contain a lot of beta-keratin, or as Joy calls it, "nature's exfoliant."

Beauty and fashion expert Bobbie Thomas gave us her favorite tricks for choosing the right colors for your makeup and clothing. To figure out if you're a warm or cool color, look at the veins inside your wrist, she said. If they're blueish-purple, you're cool. If they're greenish or olive, you're warm. Do you gravitate toward silver or gold jewelry? Silver is a cool color, while gold is a warm color. And when you're choosing between white and ivory, if white looks best, you are a cool color, while looking better in ivory indicates that you're warm.

Supermodel Cindy Crawford religiously wears sunscreen everyday. "My moisturizer has SPF 20 in it, so it's nice that its not two separate steps," she said. Cindy also makes sure to use SPF on her chest, neck and hands daily, and she'll use a much stronger SPF on her face when going to the beach -- in addition to wearing a hat-- to protect her skin.

Beauty and fashion expert Bobbie Thomas has a great method for choosing a hair color. First, you must know your skin tone, eye color and which color category you're in: warm or cool. If you have light hair, ask your stylist for lowlights to break up your hair and give it dimension. If you have darker hair, get something that is your shade, but a few shades lighter. Above all, make sure your hair looks healthy.

Health and nutrition expert Joy Bauer shared a few power foods that will help keep hair radiant and skin glowing. "For skin, think beta keratin," she said. "Anything bright orange, like sweet potato, pumpkin or carrots, or deep green, like kale and Swiss chard," she said. For hair, Joy recommends eating a diet filled with iron-rich proteins, like pork tenderloin, skinless chicken and turkey breast, as the iron in these foods help circulate oxygen to hair follicles, promoting growth.

According to makeup artist Bobbi Brown, 99% of people have yellow tones in their skin. This is why Bobbi makes all of her foundations yellow-toned, to help women easily find a natural-looking shade.

Makeup artist Bobbi Brown gave some useful advice on applying SPF. To make sure you're getting enough sun protection, make sure it's an SPF that goes all over your face, whether it's a moisturizer or a separate sunblock.

Emmy Award-winning talk show host Kelly Ripa swears by the moisturizing powers of both olive oil and Argan oil. "I put all sorts of Argan oil on my face, body and hair," she said. "The rest of it is really a lot of makeup and sunscreen every day."

Makeup artist Bobbi Brown, feels that makeup is, "a powerful tool to help women feel good about themselves." However, she warns against strictly following trends and urges women instead to take note of current trends and then modify them according to personal style and comfort level.

Celebrity fitness trainer and lifestyle expert Terri Walsh has a secret formula to have glowing skin and shiny, healthy hair. Terri suggests taking a teaspoon of extra virgin olive or coconut oil mixed with fresh lemon juice every night before bed. It's a terrific way of making your skin and hair look radiant, while promoting digestion.

Emmy Award-winning talk show host Kelly Ripa shared her top tips for looking your best. "Drink lots of water!" she urged. Though she admits she's bad with routines, Kelly told us she wears a hat and sunglasses as often as possible, and she also regularly receives Botox injections in her forehead between her eyebrows to prevent what she calls the "perma-frown."

Makeup artist Bobbi Brown recommends a combination of exercising, keeping hair shiny by using high-quality products with moisturizing oils and wearing the right, natural-looking makeup colors -- it will slash years off your look!

Unfortunately for the majority of people, the elasticity in skin won't bounce back after losing a significant amount of weight. However, Health and nutrition expert Joy Bauer recommends instead focusing on the positives of your weight loss and trying out undergarments like Spanx, Yummy Tummie Shapewear and Danskin. If you want to consult a surgeon about removing the skin, you can, but Joy doesn't feel that it's necessary.

When makeup artist Bobbi Brown visited me on Mondays With Marlo, she explained that wrinkles always look better when they're hydrated. Although there are different wrinkle creams you can buy based on the texture of your skin, hydration should be the most important factor in choosing one. When you hydrate beforehand, wrinkles won't show as prominently through foundation or any other makeup.

Makeup artist Bobbi Brown spoke about the benefits of healthy skin foods like kale, salmon and other oily fish. She also believes in eating healthy for 90% of her meal, which still allows room for pizza and other indulgences.

When it comes to combatting oily skin this summer, beauty and style expert Bobbie Thomas has some simple, easy makeup tricks. Her #1 tip: "Primer, primer, primer! A primer will help make skin matte, and as the days go on, it will help your skin resist oil in the future," she said. Avoid adding excess oil to skin with heavy creams, and use a lightweight primer to prevent skin from getting shiny. Another tip: use blotting papers throughout the day for spot control whenever you feel your T-zone is getting oily. Finally, Bobbie recommends using a transparent, white powder to help absorb oil, though she cautions against re-applying layers of oil-clogging powder.

To effectively combat criss-cross wrinkles, makeup artist Bobbi Brown suggests using water-based moisturizers that hydrate and plump your skin. This will make your face look refreshed and help you maintain a look of ageless beauty.

According to Dr. Nancy Snyderman, African-Americans absolutely need to wear sunscreen. "Even people of color can get skin cancer," she warned, adding that malignant melanoma is currently an epidemic and the number one cause of death in the U.S Even though a person of color's darker pigment will provide an advanced level of protection, harmful UVA/UVB rays will still penetrate the skin.

When it comes to healthy skin, it's all about hydration. Makeup artist Bobbi Brown explained that junk food and sodas will dehydrate the skin and lead to pesky issues like dryness and irritation.

According to Bobbi Brown, hydration is the most crucial component of maintaining skin's elasticity. "Hydrate from the inside out," Bobbi urged. She also recommends eating healthy oils, like olive oil, avocado oil and almond oil. Finally, she recommends layering rich moisturizers daily to keep skin protected and hydrated at all times.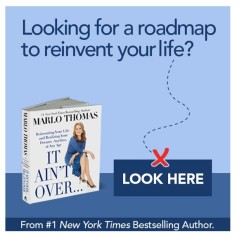 Add Marlo On Facebook:
Follow Marlo on Twitter:

Weekly Newsletter

Sign up to receive my email newsletter each week - It will keep you up-to-date on upcoming articles, Mondays with Marlo guests, videos, and more!

Sign up here