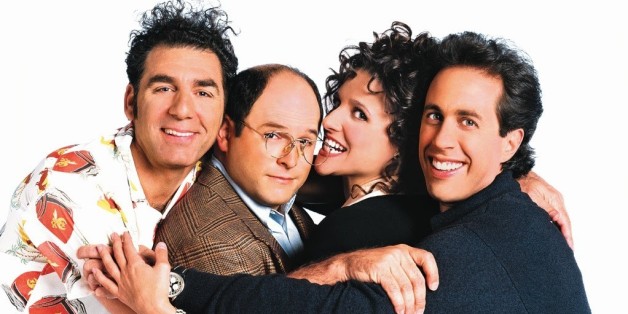 This idea is gold, Jerry! Gold!
To celebrate "Seinfeld's" 25th anniversary, TBS will air 25 of the show's greatest episodes during a special tribute week. The marathon will take place from June 30 through July 5, with four episodes airing each night in 2-hour blocks, according to a TBS press release. All fans are encouraged to use #seinfeld25 when tweeting about the episodes, unless they are just one of those people who for some reason don't use social media. (Not that there's anything wrong with that.)
Check out TBS's complete lineup of episodes below. Did your favorite make the cut?
TBS Celebrates 25 Years Of Seinfeld:

Monday, June 30
6 p.m. – "The Pen" – Jerry accepts a gift his parents wanted him to refuse.
6:30 p.m. – "The Bizarro Jerry" – Elaine's soon-to-be former beau has two friends who resemble George and Kramer.
7 p.m. – "The Jimmy" – Jerry suspects his dentist and hygienist are living out their fantasies at his expense.
7:30 p.m. – "Shower Head" – Jerry jokes about his uncle on television; Elaine fails a drug test. Guest-starring Jay Leno.

Tuesday, July 1
6 p.m. – "The Sponge" – Elaine considers intimacy with her new boyfriend (guest star Scott Patterson).
6:30 p.m. – "The Chinese Restaurant" – Jerry, Elaine and George need reservations at a Chinese restaurant.
7 p.m. – "The Serenity Now" – Jerry's new girlfriend (guest star Lori Loughlin) encourages him to express his emotions.
7:30 p.m. – "The Implant" – Elaine says Jerry's girlfriend (guest star Teri Hatcher) has implants, so he dumps her.

Wednesday, July 2
6 p.m. – "The Hamptons" – Jerry's girlfriend sees George naked during a weekend at the beach.
6:30 p.m. – "The Opposite" – George learns success lies in doing the opposite of what he would normally do. Guest-starring Dedee Pfeiffer, Regis Philbin, Kathie Lee Gifford and French Stewart.
7 p.m. – "The Bubble Boy" – Jerry gets lost en route to visiting a sick fan. Guest-starring Jessica Lundy.
7:30 p.m. – "The Pez Dispenser" – George worries about gaining the upper hand in his current romance.

Thursday, July 3
6 p.m. – "The Strike" – George's father invents a new holiday, and Kramer returns to work at the bagel shop.
6:30 p.m. – "The Little Kicks" – Kramer's friend forces Jerry to perform an illegal activity.
7 p.m. – "The Soup Nazi" – Jerry's favorite soup vendor won't serve his new girlfriend (guest star Alexandra Wentworth).
7:30 p.m. – "The Merv Griffin Show" – Jerry dates a toy collector, and Kramer thinks he's found a talk show's furniture set.

Friday, July 4
6 p.m. – "The Boyfriend (Part 1)" – Jerry and Elaine vie for time with his new friend, baseball player Keith Hernandez.
6:30 p.m. – "The Boyfriend (Part 2)" – Jerry and Elaine vie for time with his new friend, baseball player Keith Hernandez.
7 p.m. – "The Fusilli Jerry" – A mechanic pal (Patrick Warburton) uses Jerry's romantic techniques on Elaine.
7:30 p.m. – "The Marine Biologist" – George poses as a marine biologist. Guest-starring Carol Kane.

Saturday, July 5
5:30 p.m. – "The Contest" – Jerry, George, Kramer and Elaine compete over self-denial. Guest-starring Estelle Harris and Jane Leeves.
6 p.m. – "The Outing" – Jerry tries to refute reports that he and George are lovers. Guest-starring Paula Marshall.
6:30 p.m. – "The Junior Mint" – Visitors Kramer and Jerry think they have killed a surgery patient. Guest-starring Susan Walters.
7 p.m. – "The Puffy Shirt" – Jerry appears on Today wearing a silly shirt. Guest-starring Bryant Gumbel.
7:30 p.m. – "The Yada Yada" – George realizes his girlfriend's slang may leave out vital information.
SUBSCRIBE AND FOLLOW
Get top stories and blog posts emailed to me each day. Newsletters may offer personalized content or advertisements.
Learn more