8 Awesomely Ridiculous Kitchen Appliances Everyone Needs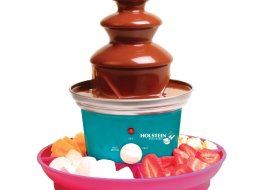 We spend a lot of time making fun of kitchen appliances -- almost too much time. But with items like the microwavable s'more maker and the voice-activated grill on the market, how can we resist?
Sometimes though, we come across a kitchen appliance that is absolutely unnecessary and utterly ridiculous, and yet somehow still 100 percent awesome. We've found more than a handful of pointless appliances that we secretly wish would be a waste of space on our kitchen counters. Because the way we see it, what kitchen wouldn't be a little more complete with an always-running personal chocolate fountain?
Behold, all the kitchen appliances you absolutely don't need, but probably should get anyway.
Soft pretzel maker WITH A CHEESE DIP WARMER.

Amazon

Waffle BOWL maker, yo.

Amazon

Zoku slushy AND milkshake maker.

Amazon

A chocolate fondue fountain FOR YOUR HOME.

Amazon

A PERSONAL SIZED (and mini) donut factory.

Amazon

A slushy machine for Coca-Cola slushies ONLY.

Amazon

The breakfast sandwich maker, a.k.a. the HANGOVER HELPER.

Amazon

A soft serve machine for YOUR KITCHEN.

Amazon
Want to read more from HuffPost Taste? Follow us on Twitter, Facebook, Pinterest and Tumblr.