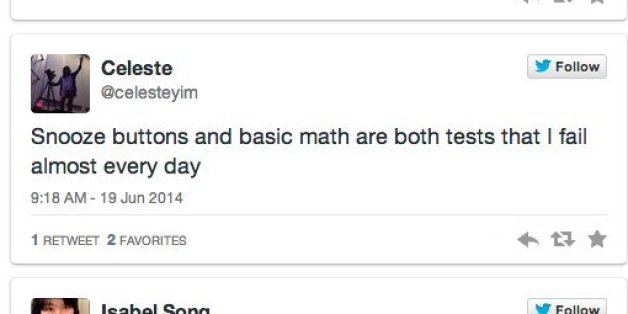 Twitter
Every week, we round up the best 140-character quips and insights from our esteemed blogging team -- and other equally awesome teen tweeters. Scroll down to read the latest batch and share your own suggestions by following @HuffPostTeen!
This week's tweets have been compiled by Madonna Momo (@MadonnaMomo), a journalism student who has an obsession with muffins.
Writing at 1am has lead me to listening to a marathon of Ed Sheeran, French rap, Vanilla Ice, oh and this beauty pic.twitter.com/DlvcthgG5M
WHY am i on the FRONT PAGE of BILLBOARD DOT COM http://t.co/9KH76IGXWp

IM SO IN LOVE WITH LIFE AND ALL OF YOU LETS HUG IT OUT

— Troye Sivan (@troyesivan) June 27, 2014
So many people in this town act like it's weird to take a cactus on a walk
Dear pretty people going to Wesleyan next year: you're pretty

— Jackson Barnett (@jacksonbarnett) June 27, 2014
Confession: Last week, a girl left her Twitter account open, so I followed myself from her account, and she still hasn't unfollowed me.
am I the only one who sees random people and is like "I am going to make you be my friend"

oh

— Justina Sharp (@bentpieceofwire) June 21, 2014
Never underestimate glitter glue.
Snooze buttons and basic math are both tests that I fail almost every day

— Celeste (@celesteyim) June 19, 2014
You know, my getting up an hour early explains the death glares I've been getting from my dog.
When I was little I used to call fireworks "fishies in the sky" so there's a fun fact to make your day more adorable

— Kami Baker (@Peeta_is_aBAKER) June 26, 2014
I'm going to make friends in college by wearing my concert tees everywhere I go. #MONUMENTOUR
Wow thank you for all the support I have had 😱 So blessed! If you have yet to hear the news.. http://t.co/0JZkTYEUAr pic.twitter.com/9X6uhQldxv

— Tallia Storm (@Tallia_Storm) June 27, 2014
I think I've spent almost 3+ hours working on a new blog for @HuffPostTeen. #noregrets

— Lani Renaldo (@g0ldyl0kz) June 27, 2014
my mom has a selfie as her lock screen
lets just say I think I look like a red bull right now

— Rebecca Black (@MsRebeccaBlack) June 21, 2014
Finally showed my mom my bent iPhone... I think she was as impressed as she was confused
This morning when I was walking my dog a woman was like "you're adorable" and I was like "thanks", then I realized she was talking to my dog

— eden friedman (@edenfriedmannn) June 23, 2014
Hi my name is Morgan Levy and I am obsessed with cats. 😻 #catlady
Follow HuffPost Teen on
Twitter |
Instagram |
Tumblr |
Pheed |
FOLLOW HUFFPOST