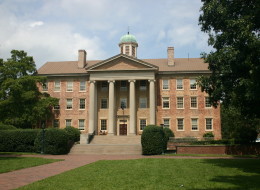 Mary Willingham, a former University of North Carolina at Chapel Hill academic advisor, claims in a lawsuit against the school she was demoted in retaliation for speaking out about fake classes and alleged corruption in the administration concerning student athletes.
The suit was filed in Wake County Superior Court on Monday, the News & Observer reports.
Willingham's civil suit claims the university spent $500,000 over 24 months to "wage a public relations campaign" against her, changed her job assignment and responsibilities and condoned a hostile work environment.
The university declined to comment to WTVD.
The UNC academic scandal had sputtered out following multiple reviews and admissions regarding academic fraud and phony classes, but it was reignited after Willingham participated in a CNN report on college athletes' low reading scores that was published Jan. 8.
Willingham was prevented from researching athletes' reading levels in January after the CNN report. In April, she announced she would resign following a meeting with UNC Chancellor Carol Folt.