21 Ways To Cook Through Your CSA Greens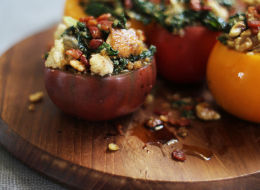 CSAs are great, in theory. It's community supported agriculture after all. Signing up for a weekly box of just-picked produce from the local farm sounds like the best way to cook seasonal throughout the months of summer, eat healthy, and feel good about supporting your local community. But the thing about theories is that they don't always pan out in reality. And when it comes to CSAs, especially in the beginning of the season, like now, this is especially true.
This time of year, when the farms are just beginning to harvest, CSA boxes are loaded with greens. No summer tomatoes, no eggplant, not even cucumbers. Just one big box of leafy, threatening-to-wilt greens. Kale, chard, arugula, and about five kinds of lettuce find their way into a single box, to be eaten by you. Thinking about eating it all feels like an impossible burden -- how are you going to do it before something goes bad?
You can do it -- and you won't have to eat salads for breakfast, lunch and dinner, either. Here are the recipes that will help you make it a reality.
Kale Mac And Cheese

Sweet Potato Chronicles

Coconut Milk Braised Lettuce With Ginger, Garlic And Pepper

gingerroot/Food52

Butter Lettuce Soup

We Are Never Full

Kale Pesto Spaghetti With Goat Cheese

Little Leopard Book

Strawberry, Pistachio, Feta Cheese & Basil Salad

Cookin' Canuck

Kale Detox Juice

Little Leopard Book

Fried Rice With Kale

Ellen SIlverman

Swiss Chard + Walnut Stuffed Tomatoes

Caroline Wright/Food52

Pine Nut Chicken In Lettuce Cups

Frances Janisch

Butter Lettuce And Turkey Sausage Pasta

Food Woolf

Spinach And Kale Greek Yogurt Dip

How Sweet It Is

Swiss Chard And Zucchini Enchiladas

Karen Bianchi/Food52

Chard Fritters

Alexandra Cooks

Red Leaf Salad With Roasted Beets, Oranges And Walnuts

Jennifer Causey

Kale And Apple Salad

Seven Spoons

Grilled Lettuce Salad With Buttermilk-Chive Dressing

Scrumpdillyicious

Chipotle Spiced Lamb & Kale Tostadas

Sweet Sugar Bean

Broccoli, Chard, & Bean Soup

Adventures in Cooking

Boston Lettuce Salad With Creamy Parmesan Dressing And Parmesan Tuiles

Savoring Time in the Kitchen

Spring Herb Salad With Radish And Parsley

Lara Ferroni

Spelt Focaccia With Kale, Squash And Pecorino

John Kernick/Food & Wine
Want to read more from HuffPost Taste? Follow us on Twitter, Facebook, Pinterest and Tumblr.