Known for delicious beignets, soulful tunes and lavish parades, New Orleans certainly lives up to its reputation. With bars open from morning till noon, the party literally never stops.
But don't forget, there is so much more to this incredible city than just the French Quarter. The Big Easy is a cultural goldmine, filled with fantastic restaurants, hip neighborhoods and irresistible finds. Read on to find the best non-touristy destinations in NOLA to suit your every mood, brought to you in partnership with New Orleans.
BOY, I'M HUNGRY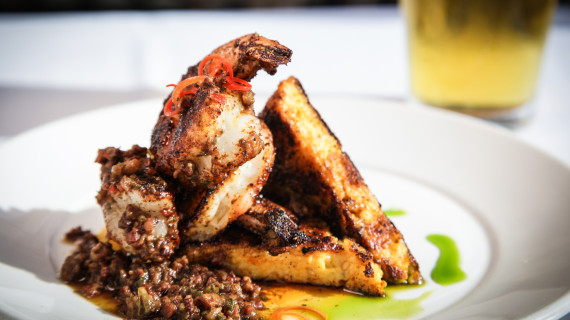 Photo: Claire Bangser
1. Get your shrimp-and-grits fix at Boucherie
In their elevated version of the humble but classic combo, blackened shrimp are laid atop grit cakes and drizzled with a house-cured bacon vinaigrette. Dig deeper into the menu and you'll find more versions of Louisiana classics, from Cajun-style boudin balls to hefty plates of barbecued brisket and ribs.
Boucherie
Uptown, East Carrollton
8115 Jeannette St.
New Orleans, LA 70118
2. Eat a sno-ball at Hansen's Sno-Bliz
It's not your momma's snow cone. (Or maybe it is: They've been open since 1939.) The ice and syrups are homemade, and they carry every flavor from nectar to "cream of wedding cake." Try a Hot Rod (a snowball with a scoop of vanilla ice cream in it) or a Senior Atomic, which combines ice, flavored syrup, vanilla ice cream, and fresh strawberry or pineapple puree. We guarantee that your taste buds will do a happy dance. BONUS: Check out this video to see how they're made.
Hansen's Sno-Bliz
Uptown, West Riverside
4801 Tchoupitoulas St.
New Orleans, LA 70115
3. Chow down on chicken wings at Manchu Food Store & Chinese Kitchen
These wings are seriously addictive. Note: This is not a sit-down restaurant, but rather a true hole-in-the-wall joint where you can also purchase liquor. Order a full tray and you'll make new friends before you know it.
Manchu Food Store & Chinese Kitchen
Seventh Ward / Mid-City
1413 N. Claiborne Ave.
New Orleans, LA 70116
4. Eat a po-boy at Parkway Bakery & Tavern
Their "surf and turf" po-boy is a messy, massive take on the classic hoagie filled with slow-cooked roast beef, crispy-fried shrimp and gravy. Order it with Barq's root beer in a bottle and a bag of Zapp's Cajun "crawtator" potato chips and you've got yourself a real New Orleans meal. You might need a nap after this one. Pro tip: When someone asks you if you want your po-boy "dressed," you should say yes, fully dressed, and how.
Parkway Bakery & Tavern
Mid-City
538 Hagan Ave.
New Orleans, LA 70119
5. Order a slice of heaven from the NOLA Pie Guy
Now, we're not knocking New Orleans classics like beignets or King Cake; after all, those delicious treats have their time and place. But what if you could get coconut cream pie (or key lime, or peach, or peanut butter or...) delivered right to your door? The Pie Guy, neé Nathan Winner, does just that thanks to a company called Good Eggs. He's truly committed to sourcing locally and serving the community. Follow him on Twitter to see where he'll pop up next.
NOLA Pie Guy
Uptown, Roving The City
New Orleans, LA 70115
6. Speaking of pie, you'll want to get a hot slice at Pizza Delicious
They'll show you a true New York slice where you least expect it. The place was started by Tulane graduates and native New Yorkers Mike Friedman and Greg Augarten, who churn out slices and garlic knots just like the real thing. Wash it all down with NOLA Brewing Company's Hopitolous and you've got true synergy.
Pizza Delicious
Bywater
617 Piety St.
New Orleans, LA 70117
MAN, I'M THIRSTY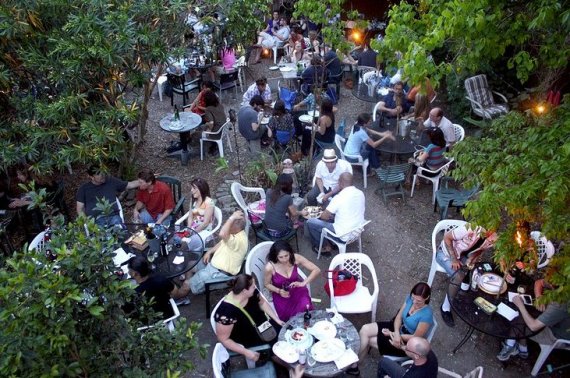 Image: Bacchanal Wine
7. Drink a real daiquiri or Sazerac at Cane & Table
Yes, it's in the French Quarter, but they're not slinging giant blue slushies here. Make like a grown-up and drink something your forefathers would be proud of. Tip: there's no sign, so you'll really have to keep your eyes peeled.
Cane & Table
French Quarter
1113 Decatur St.
New Orleans, LA 70117
8. Pop bottles at Bacchanal Wine
Choose a bottle of wine from the front of the restaurant then bring it into the courtyard for live music and delicious food. It's like hanging out at your coolest friend's backyard barbecue.
Bacchanal Wine
Bywater
600 Poland Ave.
New Orleans, LA 70117
I COULD REALLY USE SOME TUNES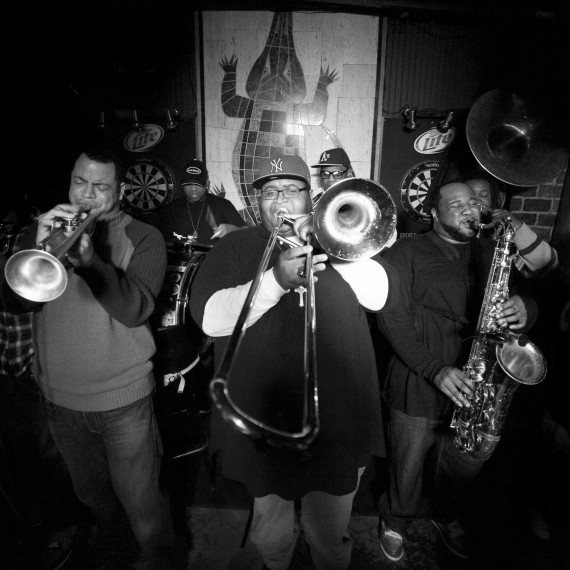 Image: Erika Goldring
9. Check out the Soul Rebels at Le Bon Temps Roule on a Thursday night
Yes, that means "the good times roll" -- as in, "let 'em." There's a dance floor in the back just in case you want to get your boogie on (you will) and a pool table in the front for the shyer types.
Le Bon Temps Roule
Uptown
4801 Magazine St.
New Orleans, LA 70115
10. & 11. You can't go wrong with a Tuesday night show at d.b.a., where the Treme Brass Band has a residency
For decades, the band has been led by snare drummer and New Orleans legend Benny Jones, Sr., and a rotating group of local brass blowers. Don't worry: If you miss them on Tuesday, you can still catch them at Candlelight Lounge in the Treme on Wednesday. But really, you shouldn't miss them at all.
Candlelight Lounge
Treme
925 N. Robertson St.
New Orleans, LA 70116
d.b.a.
The Marigny
618 Frenchmen St.
New Orleans, LA 70116
12. If you're of the indie-rock persuasion, try to hunt down a show at The Red House in the Marigny
The arty, DIY aesthetic (dive-bar atmosphere, a treehouse in the backyard, art everywhere) will make you feel right at home. We hear they throw a big party once a month, but you'll have to ask the cool kids to find out which local act is on for this weekend.
The Red House
The Marigny
2820 St. Claude Ave.
New Orleans, LA 70116
IT'S TIME TO GET A LITTLE CULTURE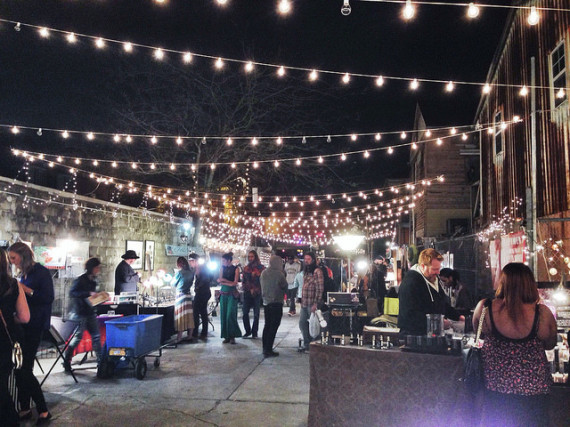 Photo: T. Tseng via Flickr
13. Head to Frenchmen Art Market and check out the local talent
Artists and artisans set up shop on Frenchmen Street every Thursday through Saturday from 7 p.m. to 1 a.m. and Sunday from 6 p.m. to midnight. Grab a drink from a local bar and stroll under the twinkling lights.
Frenchmen Art Market
The Marigny
619 Frenchmen St.
New Orleans, LA 70116
14. & 15. Get a cool T-shirt at Dirty Coast or Storyville
Dirty Coast works with local artists and printers to create their witty shirts; as the owners say, "every design is meant to strike a conversation." Storyville actually runs design contests (http://www.storyvilleapparel.com/contest) to create theirs. In any event, you'll look like a local -- they're certainly not your average "I went to New Orleans and all I got was this lousy" T-shirts.
Dirty Coast
Uptown
5631 Magazine Street
New Orleans, LA 70116
Downtown
329 Julia Street
New Orleans, LA 70116
Storyville
Irish Channel
3029 Magazine Street
New Orleans, LA 70116
BUT NOW I WANNA GO OUTSIDE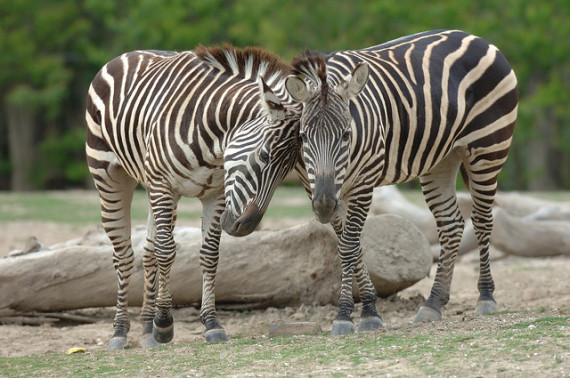 Image: Jeff Strout via Flickr
16. & 17. Head to the Audubon Zoo and then picnic on The Fly (the riverside portion of Audubon Park)
The Fly is always bustling with activity and pick-up games of soccer, Frisbee, cup-in-hand kickball -- you name it. The 53-acre zoo has your lions, your tigers and your bears but also boasts a Louisiana swamp exhibit and a "Discovery Walk," which lets you get up close and personal with your favorite critters.
Audubon Zoo
Uptown
6500 Magazine St
New Orleans, LA 70118
Audubon Park
Uptown
Exposition Drive
New Orleans, LA 70118
18. Ride the Algiers Ferry
Take in the New Orleans cityscape from the calm waters of the Mississippi River. The ferry boards at Canal Street and drops you off at quaint, historic Algiers Point, or "The Point." From there, you'll want to do some exploring: the houses are beautiful and the views are spectacular.
Algiers Ferry
Central Business District
1 Canal St
New Orleans, LA 70118
19. Visit the 13,000-acre City Park
It's a gorgeous park full of endless treasures, from the botanical gardens to the New Orleans Museum of Art to the historic (as in "over a century old" historic) flying-horse carousel to the wind-chime tree adjacent to Big Lake (an installation known as "Singing Oak," by artist Jim Hart). On a nice day, you'll never want to leave. It's even accessible via streetcar.
City Park
1 Palm Dr.
New Orleans, LA 70124
20. Take a walk on the wild side at the Bayou Sauvage National Wildlife Refuge
It only takes a quick trip out of the city to experience a veritable oasis. Here, you'll be able to canoe, hike or birdwatch to your heart's content. Bayou Sauvage supports over 340 bird species as well as alligators, turtles, otters and fish, among other species.
Bayou Sauvage National Wildlife Refuge
Gentilly/New Orleans East/Chalmette
B61389 U.S. Highway 434
Lacombe, LA 70445
I'LL CATCH IT IF I CAN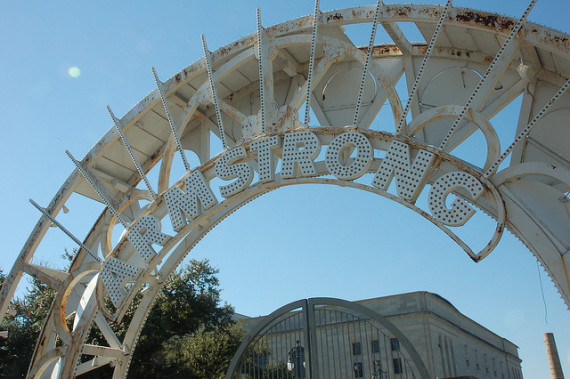 Image: Patrick via Flickr
21. Hunt down Pete's Easy Pizza Speakeasy
It's a hush-hush pizza party in a backyard in the Bywater, complete with a real brick oven. "More pizza," you say? (Yes, more pizza; always, more pizza.) There's a party every Thursday night accompanied by live music and a raucous crowd of locals. Bring cash and be prepared to wait.
Pete's Easy Pizza Speakeasy
Bywater
Our lips are sealed. But good luck!
New Orleans, LA 70116
22. & 23. Get an early start at the Vietnamese Farmers Market, then head over to Dong Phuong Bakery
It takes place every Saturday morning, but you'll have to get in on the action between 6 and 9 a.m. Vendors set up shop in the parking lot of a strip mall; there, you'll find produce that the vendors grow mere paces away. We guarantee that the fresh fruit, vegetables and herbs -- not to mention live poultry -- will be worth the few hours of shut-eye you'd get otherwise. After you're done with your shopping, walk 10 minutes to Dong Phuong for affordable and delicious banh mi.
Vietnamese Farmers Market
New Orleans East
14401 Alcee Fortier Blvd.
New Orleans, LA 70129
Dong Phuong Bakery
New Orleans East
14207 Chef Menteur Hwy.
New Orleans, LA 70129
24. & 25. Catch a free show in Lafayette Square or Louis Armstrong Park
If you visit Louis Armstrong Park in the fall (September through the end of October), you can catch the Thursday-night concert series organized by People United For Armstrong Park. In the spring, you'll want to check out "Wednesdays at the Square" in Lafayette Square.
Lafayette Square
Central Business District
500 St. Charles Ave.
New Orleans, LA 70130
Louis Armstrong Park
Treme
901 N. Rampart St.
New Orleans, LA 70116
Read on to find the best non-touristy destinations in NOLA to suit your every mood, brought to you in partnership with New Orleans.
This article has been updated to remove mention of the Harvest the Music Festival, which will not be held in 2014.
YOU MAY LIKE
CONVERSATIONS
FOLLOW HUFFPOST