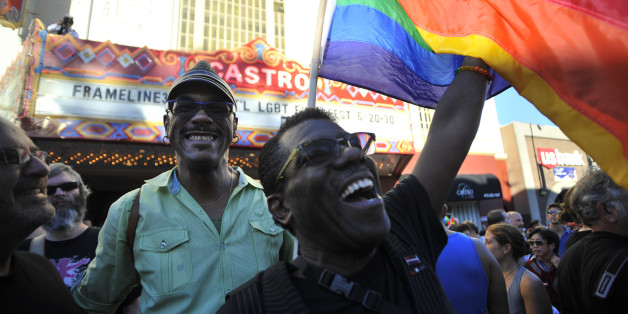 AFP via Getty Images
California's same-sex couples may now be pronounced spouse and spouse after Gov. Jerry Brown (D) signed a bill Monday eliminating outdated "husband and wife" references from state laws.
Senate Bill 1306 was introduced by state Sen. Mark Leno (D-San Francisco) to eliminate confusion and correct discriminatory phrasing in the California Constitution that contradicts state law. While the adjustment has no effect on the legality of same-sex marriage in California, it's an important capstone for couples who've watched their state rise, fall and rise again as a champion of marriage equality before ultimately declaring Prop 8's gay marriage ban unconstitutional in 2013.
"While we have achieved many milestones in the journey towards full equality for LGBT people -- including the freedom to marry for same-sex couples -- it's important that we completely erase discrimination from the books," Equality California executive director-elect Rick Zbur said in a press release. "This new law will take us one step further in that journey."
Updates include changing language from "husband and wife" to "spouses" and "an unmarried man and an unmarried woman" to "two unmarried people."
"I am pleased Governor Brown has recognized the importance of this bill, which makes it explicitly clear in state law that every loving couple has the right to marry in California," Leno said in a press release. "This legislation removes outdated and biased language from state codes and recognizes all married spouses equally, regardless of their gender."
Also on HuffPost:
Supreme Court Proposition 8 Case
FOLLOW HUFFPOST