New Iced Tea Recipes To Twist Your Summer Refreshment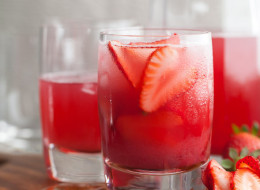 Does anybody really need a recipe for iced tea? Probably not. You soak tea in water -- you can soak it in hot water if you want to make it quickly -- then pour it over ice. Or, if you are a stickler for purity of taste, you can cold brew it for a few hours in cold water. But don't let the simplicity of iced tea trick you into thinking that it's boring, though. One thing iced tea isn't is dull. Need proof? Oh, we are on it.
While we love our hot-weather adult beverages around here (beer, cocktails, beer cocktails), you've got to have some non-alcoholic summer drinks in your repertoire for those who don't indulge. The incredibly refreshing iced tea recipes we've pulled together for you here range from fruity to floral to spicy, and prove just how great this drink can be.
Matcha Mint Iced Tea

Love and Lemons

Mint Iced Tea

James Ransom/Food52

Raspberry Peach Iced Tea

Damn Delicious

Thai Iced Tea

A Beautiful Mess

Hibiscus Strawberry Rhubarb Iced Tea

Gourmand In The Kitchen

Raspberry Lemon Iced Tea

Playful Cooking

Iced Mint And Citrus Tea

James Ransom/Food52

Honey & Orange Sweet Tea

A Beautiful Mess

Cranberry Raspberry Lime Iced Tea

Better With Cake

Mango Iced Tea

Veg Recipes of India

Agua De Jamaica (Hibiscus Tea)

Simply Recipes

Rhubarb Iced tea

Dabblings/Food52

Iced Chai Latte

lakenbrianna/Food52

Arnold Palmer, 3 Ways

A Beautiful Mess
Want to read more from HuffPost Taste? Follow us on Twitter, Facebook, Pinterest and Tumblr.