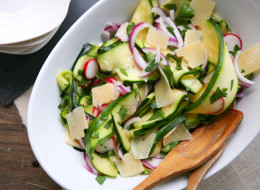 We've been conditioned to enjoy zucchini all year long, but the truth is that just like all vegetables, it tastes best in season. Great news: it's zucchini season.
Zucchini is one of the most versatile vegetables around -- it can be delicious raw, grilled, marinated, baked, fried, pureed into soup -- we have a lot of ideas for this summer squash. Unlike its milder counterparts, yellow crookneck squash, pattypan squash, etc., zucchini is aggressively verdant. Even when you fry it, you know you're eating a vegetable. For some people, that may detract from its appeal. But for us, it's a major part of why we love it so much. If you're not yet a believer, these recipes will show you the light.
Crispy Zucchini Grilled Cheese

How Sweet It Is

Cheesy Zucchini Rice

Buns In My Oven

Zucchini With Basil, Mint And Honey

Jennifer Causey/Food52

Lemon Zucchini Pancakes With A Heart Of Brie

Wonderland Kitchen/Food52

Marinated Zucchini Salad

Eclectic Recipes

Sole In A Bag With Zucchini And Black Olives

Jonathan Gregson

Zucchini Muffins

The Faux Martha

Grilled Zucchini With Goat Cheese And Pinenuts

Foodie Crush

Turkey And Zucchini Enchiladas

Eclectic Recipes

Pasta With Zucchini, Chickpeas And Gremolata Bread Crumbs

cathyeats/Food52

Whole Wheat Chocolate Fudge Zucchini Snack Cake With Candied Pistachios

How Sweet It Is

Slow Cooker Vegetarian Lasagna Soup

Foodie Crush

Zucchini Nutella Swirl Muffins

A Spicy Perspective

Zucchini-And-Pepper Gratin With Herbs And Cheese

James Merrell/Food & Wine

Zucchini Summer Skillet With Poached Eggs & Garlic Butter Baguettes

How Sweet It Is

Banana-Zucchini Bread

Brown Eyed Baker

Zucchini And Green Chutney Salad

A Spicy Perspective

Fried Zucchini Chips

Bev Cooks

Whole Wheat Zucchini Banana Chocolate Chip Muffins

How Sweet It Is

Grilled Zucchini With Basil And Balsamic

Ray Kachatorian

Patricia Wells' Zucchini Carpaccio With Avocado And Pistachios

Joseph De Leo/Food52

Zucchini Brownies

Eclectic Recipes

Linguine With Tomatoes, Baby Zucchini And Herbs

John Kernick/Food & Wine

Hatch Chile Enchiladas With Chicken And Zucchini

Bev Cooks

Tuscan Grilled Zucchini & Summer Squash

Sarah Shatz/Food52

Julia Child's Tian De Courgettes Au Riz (Zucchini Tian)

Karen Mordechai

Dover Sole with Herb Oil and Zucchini

James Ransom/Food52

Spicy Turkey And Zucchini Burgers

Simply Recipes

Browned Butter Zucchini Bundt Cake

The Faux Martha
Want to read more from HuffPost Taste? Follow us on Twitter, Facebook, Pinterest and Tumblr.