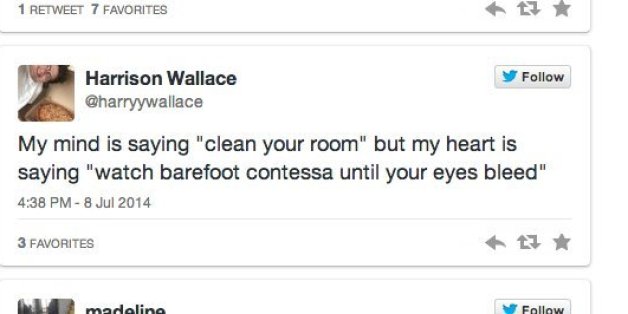 Every week, we round up the best 140-character quips and insights from our esteemed blogging team -- and other equally awesome teen tweeters. Scroll down to read the latest batch and share your own suggestions by following @HuffPostTeen!
This week's tweets have been compiled by Emma McLaughlin. Emma lives in Ohio, has quite literally watched 95 percent of the instant Netflix library, and enjoys reading her Twitter feed aloud to her cat, Matilda.
we are all empanadas when u think abt it. We are all pockets of meat just making our way thru life
Mom you can't just call my friend "the devil incarnate" because he brought over Fudge Stripe cookies
summer tip: Stay active! Never idle. never be alone with your own thoughts. Ever. bake a fun theme cake and ice it with your broken insides.
Grapes are so weird I mean GREEN grapes?? Into WHITE wine?!!
Mozzarella sticks are a health food because they're a great source of calcium
so blessed to live in a country that grants me the freedom to move to australia when i grow up
My biggest fear is ants working together to lift up my house and move it
My mind is saying "clean your room" but my heart is saying "watch barefoot contessa until your eyes bleed"
ppl think ohio is all farmland…..but we are actually the land of money, success, fame, and glamour
I missed the ice cream man because I cant find my wallet. Why do bad things happen to semi-decent people with occasionally strong hair game?
It was me, I let the dogs out
What if I just married the internet
Photobombed someone taking a selfie using a selfie stick because no one should ever be that lonely.
Always playing New Order when I go through drive-thrus to let the workers know that I'm deep and thoughtful
Starting my novel on a minor who falls in love with a weatherman via twitter and maintains a relationship thru snapchat the next Lolita
I wish the Kim Kardashian game had credit cards so I could practice going into debt
Getting real tired of wearing pants and having responsibilities.
i regret eating an entire box of powdered donuts but i live for these moments
I would be such a good soccer player in terms of crying on the floor whenever someone hurts me
"@TMZ: Justin Bieber and Selena Gomez -- Officially Engaged in Rebound Dating Duel http://t.co/1jbduom3zo" All I read was "engaged"
Dyeing my hair brown because blondes have more fun.
SUBSCRIBE TO & FOLLOW CAMBIO
Get top stories and blog posts emailed to me each day. Newsletters may offer personalized content or advertisements. Learn more