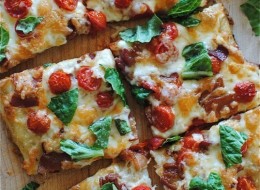 The BLT is special compared to other sandwiches. There's something about the combination of crispy bacon, fresh tomato and lettuce on toast with a smear of mayonnaise that other sandwiches just don't stand a chance against. The BLT may be simple to make, but its flavor profile is complex and entirely fulfilling, delivering salt and crunch alongside refreshing sweetness. One bite hits all the right notes, and you can almost never have enough.
If you're as big of a fan as we are, you're gearing up for a BLT-heavy end of summer, when tomatoes are at their peak and BLTs are your go-to, quick but utterly rewarding lunch. What if we told you that there was more than one way of getting that BLT flavor into your life? Aside from all the variations you can make on the classic sandwich (like adding avocados, of course), you can also get your BLT fix with pizzas, salads and even tostadas. Check out all the inspired ideas below. Happy BLT season!
BLT Grilled Cheese

Foodiecrush

BLT Pizza With Caesar Dressing

Bev Cooks

BL (Slow-Roasted) T

Not Without Salt

BLT Tostadas

Bev Cooks

Cali BLT

Bijouxs

BLT Spring Rolls

White On Rice Couple

Fried Egg BLT

How Sweet It Is

Cheddar BLT Burgers With Tarragon Russian Dressing

Quentin Bacon/Food & Wine

Fried Green Tomato BLT

Matt Armendariz

BLT Salad With Buttermilk Dressing

Steamy Kitchen

Rad Raddish BLT

SeaweedandSassafras

Heirloom BLT Pizza

A Cozy Kitchen

Salmon BLT Sliders

How Sweet It Is

Southwest BLT Crostini

mommiecooks

BLT Panzanella

Annie's Eats

Smoked Bacon BLT with Arugula

Simply Recipes

Skirt Steak BLT With Basil Mayonnaise

Jerry Errico

BLT Tart

The Tomato Tart

Crispy Avocado BLT Salad

How Sweet It Is

BLT Salad In A Jar

It All Started With Paint

BLT Salmon Salad

savorthis

BLT Macaroni Salad

Buns In My Oven

Crab Cake BLT

KokoCooks

BLT Chopped Salad With Corn, Feta and Avocado

How Sweet It Is

Salmon BLT

mtlabor

BLT With Avocado And Pink Chili Mayo

Aimee Herring

BLT Wraps

Recipe Girl

Bacon Avocado Salad with Bacon Dripping Dressing

Adventures In Cooking

BLT-With-Egg Grilled Cheese Sandwich

Diethood

French Toast BLT

E Is For Eat

BLT Caprese Sliders With Puff Pastry Buns

Domestic Fits

Lobster BLT

How Sweet It Is

BLT Bucatini

bell allimento

BLT Pizza With Maple Bacon Vinaigrette

Annie's Eats

Buttermilk Biscuits BLTs

Macheesmo
Want to read more from HuffPost Taste? Follow us on Twitter, Facebook, Pinterest and Tumblr.
Get the BLT Grilled Cheese recipe by Foodiecrush

Get the BLT Pizza recipe by Bev Cooks

Get the BL (Slow-Roasted) T recipe from Not Without Salt

Get the BLT Tostadas recipe by Bev Cooks

Get the Cali BLT recipe by Bijouxs via Food52

Get the BLT Spring Rolls recipe from White On Rice Couple

Get the Fried Egg BLT recipe by How Sweet It Is

Get the Cheddar BLT Burgers with Tarragon Russian Dressing recipe

Get the Fried Green Tomato BLT recipe

Get the BLT Macaroni Salad recipe from Skinny Taste

Get the BLT Salad with Buttermilk Dressing recipe from Steamy Kitchen

Get the Rad Raddish BLT recipe by SeaweedandSassafras via Food52

Get the Heirloom BLT Pizza recipe from A Cozy Kitchen

Get the Salmon BLT Sliders recipe by How Sweet It Is

Get the Southwest BLT Crostini recipe by mommiecooks via Food52

Get the BLT Panzanella recipe by Annie's Eats

Get the Smoked Bacon BLT with Arugula recipe by Simply Recipes

Get the Skirt Steak BLT With Basil Mayonnaise recipe

Get the BLT Tart recipe from The Tomato Tart This tart or galette includes a filling of roasted heirloom tomatoes, onions and crisp bacon. In the last minutes of baking, top the tart with a cracked egg. Sprinkle with chopped lettuce before serving.

Get the Crispy Avocado BLT Salad recipe by How Sweet It Is

Get the BLT Salmon Salad recipe by savorthis via Food52

Get the Crab Cake BLT recipe from KokoCooks If a crab cake wasn't indulgent enough, this one is served on a roll with lettuce, tomato, bacon and Old Bay mayo.

Get the Salmon BLT's recipe by mtlabor via Food52

Get the BLT with Avocado and Pink Chili Mayo recipe Sriracha hot sauce turns the mayo in this BLT recipe a pretty pink -- it also gives it a noticeable kick. Adding avocado slices to the sandwich gives it a nice creamy texture when biting in.

Get the BLT Wraps recipe from Recipe Girl