GAZA CITY, Gaza Strip (AP) -- Israel widened its air assault against the Gaza Strip's Hamas rulers on Saturday, hitting a mosque, Hamas-affiliated charities and an Islamic home for the disabled, as Palestinians said the death toll from the five-day offensive rose to 135.
While Israel vowed to press forward with its 5-day-old campaign, it found itself facing growing international calls to stop. In New York, the U.N. Security Council unanimously called for a cease-fire, while Britain's foreign minister said he would be discussing cease-fire efforts with his American, French and German counterparts on Sunday.
SCROLL DOWN FOR LIVE UPDATES
The 15-member Security Council issued a press statement calling for a de-escalation, restoration of calm and a resumption of Mideast peace talks. The press statement, which is not legally binding but reflects international opinion, was the first response by the U.N.'s most powerful body.
An Israeli official said the goal of the operation is to restore quiet to Israel for a continuous period. "This goal will be achieved whether it is done militarily or diplomatically. Israel will consider any suggestion that will bring the accomplishment of this goal," the official said, speaking on condition of anonymity because he was not authorized to talk to the media.
The military said it has struck more than 1,100 targets, including Hamas rocket launchers, command centers and weapon manufacturing and storage facilities, in a bid to stop relentless rocket fire coming Gaza. Officials in the territory said that two women were killed in the attack on the disabled center.
The central Gaza mosque was being used to conceal rockets like those militants have fired nearly 700 times toward Israel over the past five days, the military said. However, the strikes in the densely populated Gaza Strip show the challenge Israel faces as it considers a ground operation that could potentially pose further dangers to civilians.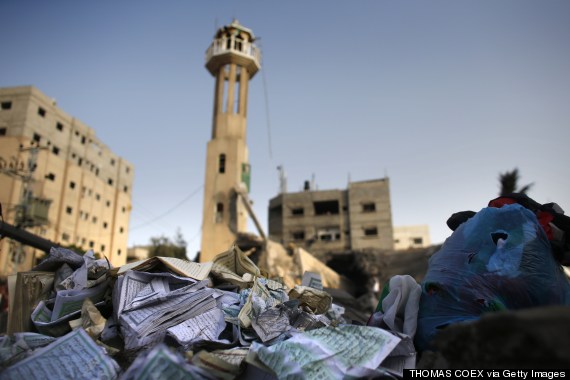 Damaged copies of Islam's holy book the Koran lie on the rubble from a destroyed mosque following an Israeli military strike in the Nusseirat refugee camp in the central Gaza Strip, on July 12, 2014. (THOMAS COEX/AFP/Getty Images)
Gaza Health Ministry spokesman Ashraf al-Kidra said Israeli strikes raised the death toll there to 135, with more than 920 wounded. Among the dead was a nephew of Ismail Haniyeh, a top Hamas leader, who was killed in an airstrike near his home, Hamas officials said.
Hamas militants have been hit hard. Though the exact breakdown of casualties remains unclear, dozens of the dead also have been civilians. Israel has also demolished dozens of homes it says are used by Hamas for military purposes.
"Am I a terrorist? Do I make rockets and artillery?" screamed Umm Omar, a woman in the southern town of Rafah whose home was destroyed in an airstrike. It was not immediately known why the building was targeted.
The offensive showed no signs of slowing down Saturday as Israeli Defense Minister Moshe Yaalon said his country should ready itself for several more days of fighting.
"We have accumulated achievements as far as the price Hamas is paying and we are continuing to destroy significant targets of it and other terror organizations," Yaalon said after a meeting with top security officials. "We will continue to punish it until quiet and security returns to southern Israel and the rest of the country."
Hamas said it hoped the mosque attack would galvanize support for it in the Muslim world.
"(It) shows how barbaric this enemy is and how much it is hostile to Islam," said Husam Badran, a Hamas spokesman in Doha, Qatar. "This terrorism gives us the right to broaden our response to deter this occupier."
The Israeli military released an aerial photo of the mosque it hit, saying Hamas hid rockets in it right next to another religious site and civilian homes. It said Hamas, Islamic Jihad and other Gaza militant groups use religious sites to conceal weapons and establish underground tunnel networks, deliberately endangering civilians.
Critics say such allegations are too sweeping, and that Israel's heavy bombardment of one of the densely populated territories is itself the main factor putting civilians at risk.
Sarit Michaeli of the Israeli human rights group B'Tselem said that while using human shields violates international humanitarian law, "this does not give Israel the excuse to violate international humanitarian law as well."
Israel issues early warnings before attacking many Gaza targets and the military says it uses other means to do its utmost to avoid harming bystanders. But Michaeli said civilians have been killed when Israel bombed family homes of Hamas militants or when residents were unable to leave their homes quickly enough following the Israeli warnings.
The "Iron Dome," a U.S.-funded, Israel-developed rocket defense system, has intercepted more than 130 incoming rockets, preventing any Israeli fatalities so far. A handful of Israelis have been wounded by rockets that slipped through.
Militant rockets have reached further into Israel than ever before, with air raid sirens sounding even in the northern city of Haifa, 100 miles (160 kilometers) away.
On Saturday, air raid sirens went off in Jerusalem, about 45 miles (70 kilometers) from Gaza, for a third time. The rocket landed near the Palestinian city of Hebron in the West Bank, damaging a house but causing no injuries.
The frequent rocket fire has disrupted daily life in Israel, particularly in southern communities that have absorbed the brunt of it. Israelis mostly have stayed close to home. Television channels air non-stop coverage of the violence and radio broadcasts are interrupted live with every air raid siren warning of incoming rockets.
The frequent airstrikes have turned the normally frenetic Gaza City into a virtual ghost town during the normally festive monthlong Ramadan holiday, emptying streets, closing shops and keeping hundreds of thousands of people close to home where they feel safest from the bombs.
The offensive is the heaviest fighting since a similar eight-day campaign in November 2012 to stop Gaza rocket fire. The outbreak of violence follows the kidnappings and killings of three Israeli teenagers in the West Bank, and the kidnapping and killing of a Palestinian teenager in an apparent revenge attack.
Israeli Prime Minister Benjamin Netanyahu has vowed to press on with the campaign until there is a halt to rocket attacks. Israel has massed thousands of troops along the border in preparation for a possible ground invasion, with soldiers atop vehicles mobilized and ready to move into Gaza if the order arrives.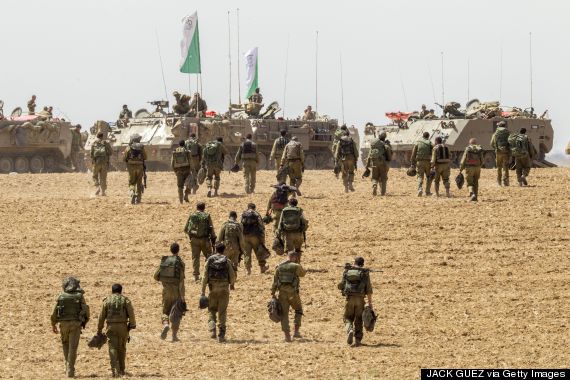 Israeli soldiers from the Nahal Infantry Brigade walk at an Israeli army deployment area near Israel's border with the Gaza Strip, on July 12, 2014. (JACK GUEZ/AFP/Getty Images)
A senior military official said Saturday that Israel estimated Hamas still had thousands of rockets in its arsenal and it would take Israel more time to eliminate the threat to its civilians.
"There is no knockout. It is more complicated," he said, speaking on condition of anonymity because of military guidelines.
Israel asserts it has strong support from its allies to hammer Hamas, but it has begun coming under international pressure as Palestinian casualties have grown.
In London, Foreign Minister William Hague of Britain, a close Israeli ally, said he had spoken to his Israeli counterpart and called for an "immediate de-escalation" and expressed his "deep concern" about civilian casualties.
He called for "urgent, concerted international action to secure a cease-fire" and said he would discuss that goal with his American, French and German counterparts in Vienna on Monday.
The Arab League said foreign ministers from member states will hold an emergency meeting in Cairo on Monday evening to discuss the continued Israeli offensive and measures to urge the international community to pressure Israel.
Egypt, which historically has served as a mediator between Israel and Hamas, appears less eager to help out this time. Hamas was particularly close to the Muslim Brotherhood, who the current leadership banned after driving it from power last year.
Still, it has tried to show support for Palestinians by opening its crossing with Gaza, allowing deliveries of food and medical supplies and evacuation of some wounded.
____
Heller reported from Tel Aviv, Israel. Associated Press writers Mohammed Daraghmeh in Ramallah, West Bank, and Maamoun Youssef in Cairo contributed to this report.
Share +
Reuters reports that Israel has arrested one of the suspects in the kidnapping and killing of three Israeli teenagers in the West Bank in June.
Hussam Kawasme, a 40-year-old resident of the West Bank city of Hebron, was arrested on July 11 in connection with the killing of Israelis Gil-Ad Shaer, Naftali Fraenkel and Eyal Yifrah, who went missing on June 12 and were discovered dead a couple of weeks later.

Their kidnapping sparked a cycle of violence that led to the month-long conflict between Israel and Palestinian militants in the Gaza Strip.

Kawasme's arrest was made public for the first time on Tuesday in a document from an Israeli court case over whether houses belonging to him and two other suspects - who remain at large - should be destroyed as a punitive measure.

The lawyers listed as representing Kawasme were not reachable for comment.

The court document said Kawasme had admitted to helping to organize the kidnapping - securing funding from the Hamas Islamist group in Gaza and purchasing weapons which he passed on to the two other suspects who carried out the attack.

Kawasme also helped to bury the bodies of the teenagers in a plot of land he had bought a few months earlier, it said.

Israel has named the other two suspects in the case as Marwan Kawasme and Amar Abu Aysha.