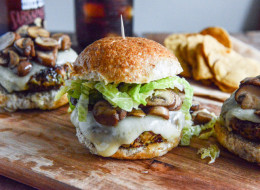 It just wouldn't be summer without burgers. These nicely grilled and perfectly topped buns are part of what makes the warm months so great. But if you're looking to eat healthy -- or if you just don't eat meat -- than you're unable to partake in the best grill outs of the season. We're here to right that wrong with veggie burgers.
The awesome thing about veggie burgers is that they're incredibly versatile. You can make them with nearly any vegetable that's in season during the summer. There is a catch: a good veggie burger is hard to come by. So many times can these meat-less burgers be dry, bland or just disintegrate in your hands. That's why we set out to find the greatest veggie burger recipes we could find, ones that even meat-eaters would enjoy. We were wildly successful. Try any of the 17 recipes below and you'll see what we mean.
Crispy Buffalo Style Quinoa Sliders With Sweet Corn + Scallions

How Sweet It Is

Thai Veggie Burgers With Peanut Sauce

Annie's Eats

Black Bean And Quinoa Veggie Burgers

James Ransom/Food52

BBQ Cheddar Chickpea Burgers

How Sweet It Is

Veggie Burgers With Pomegranate Ketchup

John Kernick/Food&Wine

Crispy Autumn Veg Burgers With Apple Cider Slaw

How Sweet It Is

Double Bean Burger Patty Melts

How Sweet It Is

Quinoa, Fava Bean And Chard Veggie Burgers

Carolyn Cope

Roasted Red Pepper Quinoa Burgers

How Sweet It Is

Smoky Sweet Potato Burgers With Roasted Garlic Cream

How Sweet It Is

Easy Double Bean Burgers

How Sweet It Is

Brown-Rice Veggie Burgers

Stephanie Foley/Food&Wine

Beet Burgers

Macheesmo

Veggie Masala Burgers With Cilantro Chutney Aioli

Madhuri Sharma

Crispy Quinoa Sliders

How Sweet It Is

Spicy Edamame Burgers

A Beautiful Mess

Bean Burgers With Grilled Corn, Pesto + Heirloom Tomatoes

How Sweet It Is
Want to read more from HuffPost Taste? Follow us on Twitter, Facebook, Pinterest and Tumblr.