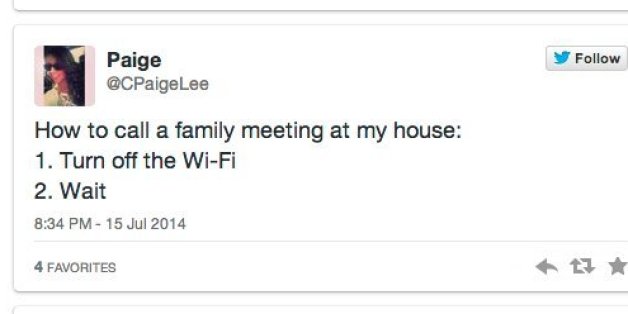 Twitter
Every week, we round up the best 140-character quips and insights from our esteemed blogging team -- and other equally awesome teen tweeters. Scroll down to read the latest batch and share your own suggestions by following @HuffPostTeen!
This week's tweets have been compiled by Jackson Barnett. Jackson is an 18-year-old from Alabama who watches "How I Met Your Mother" so incessantly that his friends and family really should give him a "How I Met Your Mother"-style intervention to encourage him to stop watching "How I Met Your Mother."
I want a destination wedding and I want the destination to be Beyonce's house
Started to breakout so I went to Dairy Queen and got a French silk pie blizzard because the French have good skin right

— Emma McLaughlin (@pizzaree) July 14, 2014
By hour three of dorm shopping there's kinda this feeling of "what if I don't go to college but instead live in this Bed, Bath and Beyond?"

— Kiley Roache (@KileyRoache) July 10, 2014
"Lauren is always having a crisis." - mom describing me to her friends
I would like to apologize for my abundance of sass. I sadly cannot guarantee an end, nor a decrease in sass. It's something I'm working on.

— Garrett deGraff (@Garrettdeg) July 16, 2014
my brother just asked me who the wiggles were
Just cried in Target because I saw One Direction folders and was so excited to buy them and then realized...I'M IN COLLEGE :((((((

— Bizzy Emerson (@bizzyems) July 15, 2014
Sometimes I make my dad ask for a kids menu at restaurants. The waiter thinks it's for my little brothers, but it's actually for me. I'm 18.
Let's be real: the button on the driver's side of a car that locks all the windows is the first step towards dictatorship #powerhungry

— Neel Swamy (@neel_swamy) July 17, 2014
I really love using "slay" as a sassy verb
My picture was at 199 so I liked it myself do y'all think society will forgive me

— Rip Livingston (@rip_livingston) July 17, 2014
How to call a family meeting at my house:
1. Turn off the Wi-Fi
2. Wait
i just want to be able to live my life like a positive connor franta tweet

— mel (@klainky) July 15, 2014
All my 67 drafts on Twitter are a result of my refusal to delete tweets that are too long but otherwise pure gold.

— Isabel Song (@IsabelSong) July 18, 2014
People who believe satire news sites are people I don't want to know.
That awkward moment when your ex goes to your mosque. I've never been so happy about gender segregated seating 🙌

— Alicia ☪ (@alicia72496) July 17, 2014
My old crush got a haircut and it looks good and it's ruining my day
Did you know that a "Netflix for books" isn't actually an innovative idea because it already exists and is called a library?

— John Hansen (@ABoredAuthor) July 16, 2014
Baby-sitting is the best form of birth control....does this mean Hobby Lobby is going to take that away from me?
Free wifi is the light to my life

— indy yelich (@IndyYelich) July 14, 2014
Couples that sit on the same side of the table shouldn't even be allowed to eat out in public.
I currently have a hella impressive farmer's tan.

Read: I am my own birth control.

— Jackson Barnett (@jacksonbarnett) July 15, 2014
FOLLOW HUFFPOST