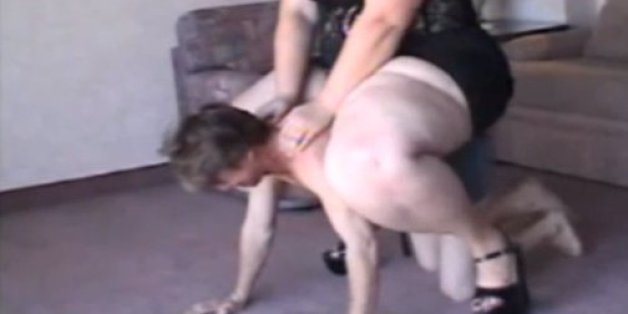 Sometimes, your job is a soul-crushing slog that drains the life out of your cold, hardened body. So what better way to warm those bones than paying to have your body crushed?
Amazon Amanda makes her living doing just that.
The 6-foot-3, 280-pound fetish model gets paid by dudes who want to be squashed, crushed, wrestled or even just be seen with a big woman.
Amanda, 38, says she's different than other fetish workers because there's no sex involved.
"Although some of my clients get aroused during the sessions, I'm never naked," she says. "As far as fetish work goes I'm considered a prude."
He started to make too much noise and move a bit...so of course I strapped him to the bench...and Then crushed him. pic.twitter.com/UdPrrGHKer
She's been around for a while -- she made a cameo on Tosh.0 in 2010, video below -- but she's making the rounds online again presumably because content provider Barcroft Media wanted to sell a photo of her. It worked. She's been written up this week in Metro, The Mirror, the Scottish Daily Record, and our U.K. site.
One of her biggest fans, 5-foot-3 Sergio Miranda of New Jersey, says he's "always had a fascination with big women."
"For me they're more true to being a woman than the skinny models you see," he says. "Being seen out on the street with an amazon model feeds my ego. I prefer to see my preference for big women as a lifestyle rather than a fetish."
Anyway, gawk at this video:
Like Us On Facebook |
Follow Us On Twitter |

Contact The Author
SUBSCRIBE AND FOLLOW
Get top stories and blog posts emailed to me each day. Newsletters may offer personalized content or advertisements.
Learn more