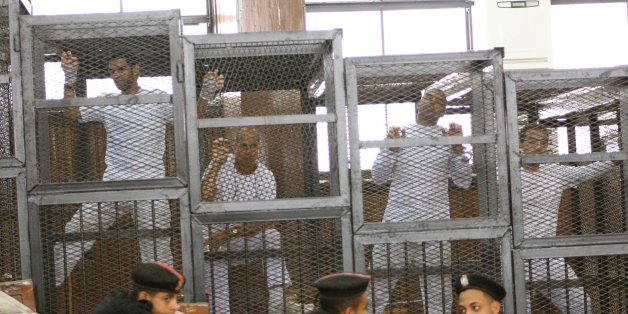 MCT via Getty Images
Journalists around the world are outraged by Egypt's sentencing of three Al Jazeera journalists, and the latest statement from the Egyptian court that jailed them is sure to provoke more outcry.
Al Jazeera journalists Peter Greste, Mohamed Fahmy and Baher Mohammed have been sentenced to seven to ten years in prison. They were arrested in December, and found guilty of spreading false news and conspiring with the Muslim Brotherhood. The court said in a statement on Tuesday that the journalists were in cahoots with the devil.

"The defendants took advantage of the noble profession of journalism … and turned it from a profession aimed at looking for the truth to a profession aimed at falsifying the truth," the statement read.
"The devil guided them to use journalism and direct it toward activities against this nation," it added.
People expressed their dismay at the remarks on Twitter:
Deranged Egyptian Court says that jailed al-Jazeera journalists were guided by 'devil' to spread false news - http://t.co/QDtMbQgDuR

— Dimitri Lascaris (@dimitrilascaris) July 23, 2014
The court's statement came after a months-long trial that ignited international protest. The evidence that the prosecution presented against the journalists included an audio clip of a Gotye song and a report about sheep farming. At one point, the judge even donned sunglasses to watch pieces of video evidence.
FOLLOW HUFFPOST