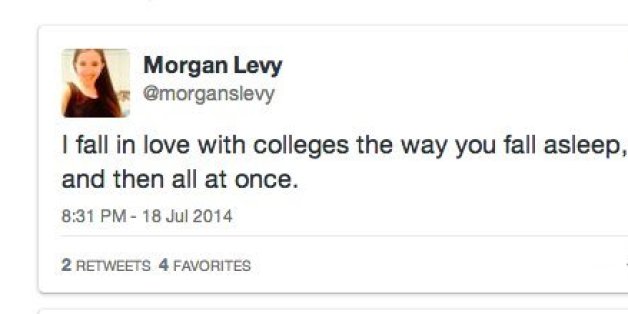 Every week, we round up the best 140-character quips and insights from our esteemed blogging team -- and other equally awesome teen tweeters. Scroll down to read the latest batch and share your own suggestions by following @HuffPostTeen!
This week's tweets have been compiled by Jamie Gleklen. Jamie is a rising junior who carefully balances her life between conducting original scientific research and trying to read every interview that features her favorite celebrities.
I fall in love with colleges the way you fall asleep, slowly and then all at once.
— Morgan Levy (@morganslevy) July 19, 2014
my pants zipper broke onstage..... i came out to have a good time and im honestly feeling so attacked right now
— camEEla cabeYo (@camilacabello97) July 20, 2014
THOSE PEOPLE WHO RANDOMLY TEXT YOU OUT OF NOWHERE JUST TO CHECK UP ON HOW YOU'RE DOING DESERVE A LIFE TIME SUPPLE OF FUDGE BROWNIES
— anthony spears (@LOHANTHONY) July 24, 2014
My Saturday night consists of ice cream and a one thousand piece puzzle. Yours? pic.twitter.com/w9iiXlcgZF
— Hailee Steinfeld (@HaileeSteinfeld) July 20, 2014
*goes to the bathroom after sleeping all afternoon*
*is frightened by the reflection in the mirror*
— Isabel Song (@IsabelSong) July 23, 2014
if I didn't tweet, did today even happen?
— Justina Sharp (@bentpieceofwire) July 23, 2014
GOD BLESS CHICKEN NUGGETS
— Rebecca Black (@MsRebeccaBlack) July 22, 2014
When the vans we get around in upgrade to having a charging station in every row that takes USB cables, that's what I call success.
— Lauren Jauregui (@LaurenJauregui) July 24, 2014
"I'm going to have to watch tv alone." - mom worrying about me going to college
— Lauren Cooke ❁ (@laurensofar) July 24, 2014
I can only hope that one day @prattprattpratt will tenderly french braid my hair http://t.co/tktjTj6vEv
— Bizzy Emerson (@bizzyems) July 23, 2014
me shopping: oh yeah that shirt is nice but where is the other half of it
— Madison Lee (@Maddielovesyou1) July 23, 2014
In 2058, the selfies became self aware and started choosing their own filters.
— Neel Swamy (@neel_swamy) July 22, 2014
i go all day just thinking about pumpkin spice lattes and then 3 am rolls in and i ponder the meaning of life.
— Abigail Breslin (@yoabbaabba) July 23, 2014
This is the actual goal pic.twitter.com/8rZ4mIo18f
— Kami Baker (@Peeta_is_aBAKER) July 24, 2014
The only time anyone asks me for me number is when I'm using my bonus card at the self-checkout
— jay rome (@bonhumora) July 22, 2014
mOM IF YOU COME INTO MY ROOM TO TELL ME SOMETHING YOU DONT NEED TO STAY FOR AN EXTRA TWENTY MINUTES
— bea (@BeaMiller) July 23, 2014
Thank you to the state of Ohio for this great piece of advice pic.twitter.com/wyLsGKg5dn
— Emma McLaughlin (@pizzaree) July 22, 2014
"Hi, can I get a burger and a side order of using your bathroom?"
— Morgan Hegarty (@PotatoesHegarty) July 22, 2014
— Lauren Cimorelli (@LaurenCimorelli) July 24, 2014
Bey is bae pic.twitter.com/vyXSyz21Qx
— Kiley Roache (@KileyRoache) July 23, 2014
Friends give friends updates on Taylor Swift news.
— Jamie (@jglek) July 24, 2014
Follow HuffPost Teen on
Twitter |
Instagram |
Tumblr |
Pheed |