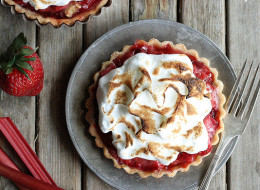 You may have been awed by the beauty of towering layer cakes. And the smooth, smooth finish of macarons has probably made your heart skip a beat once or twice. But those desserts know nothing about beauty in comparison to tarts. It is the tart -- the thinner, slightly fancier version of a pie -- that is truly show stopping. This dessert, so common in Europe, will satisfy your sweet tooth and give you something nice to look at.
Tarts are made with the same buttery, flaky crust pies are, but they're often times filled with unbaked pastry creams and topped with delicate fresh fruits, and then glazed with jellies. Or, they're baked and crowned with tall peaks of meringue. Other times, they're dense and unassuming, but full of the richest chocolate your heart could ask for. But one thing remains constant, and it's that they'll be delicious (and beautiful) every time.
Raspberry Pistachio Honey Tart

Annie's Eats

Pumpkin S'mores Tart

How Sweet It Is

Summer Berry Tart

Vikalinka

Maple Custard Tart

Cafe Johnsonia

Strawberry Rhubarb Meringue Tartlets

Completely Delicious

Mascarpone Cream Tart with Fresh Fruit

Apt. 2B Baking Co.

Chocolate Peanut Butter Tart

Annie's Eats

Strawberries And Cream

The Clever Carrot

Lemon Tart with Raspberries

Bell'alimento

Blueberry Meringue Tarts

Delicious Everyday

Peppermint Chocolate Tart

The Faux Martha

Key Lime Tartlets

Adventures in Cooking

Chocolate Hazelnut Tart

The Faux Martha

Champagne Grape Tarts

Always with Butter

Whipped Mocha Tart

Dieter's Downfall

Nectarine Mascarpone Tart

The Faux Martha

Fresh Fruit Tart With Mango Curd Filling

Life Scoops

Chocolate Caramel Tartlets For Two

Annie's Eats

Almond Persimmon Cream Cheese Tart

James Ransom/Food52

Brown Butter-Cranberry Tart
Want to read more from HuffPost Taste? Follow us on Twitter, Facebook, Pinterest and Tumblr.