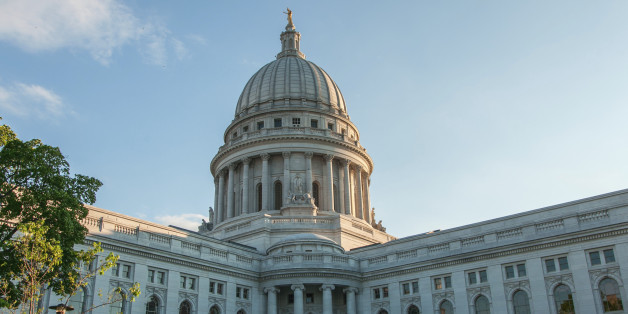 (Fixes keyword identifier, with no change to text)
MILWAUKEE, July 31 (Reuters) - The Wisconsin Supreme Court on Thursday upheld a 2009 law that establishes a registry for same-sex couples, saying it does not violate an amendment to the state's constitution banning gay marriage.
The registry gives registered same-sex couples the right to hospital visits, family medical leave to care for a stricken partner, health benefits under a partner's insurance and the right to inherit assets when a partner dies.
The court said the ban on same-sex marriage did not include a ban on certain rights for same-sex couples. The gay marriage ban was approved by Wisconsin voters in 2006.
Three years later, the registry was created under Democratic Governor Jim Doyle to afford certain rights to same-sex couples. It now has more than 2,000 couples on it, according to Fair Wisconsin, a gay-rights organization based in Madison.
Wisconsin Family Action, an anti-gay rights group, argued in a 2010 lawsuit that the registry violated the amendment because it resembles marriage under state law.
Lambda Legal, an advocacy group pushing for same-sex marriage, hailed the Wisconsin court's decision.
"Gay and lesbian couples in Wisconsin no longer have to fear that the protections they have will be taken away by unnecessary anti-gay legal action," it said in a statement.
The Wisconsin ban on same-sex marriage took a hit on a national level when a federal judge in June ruled that it was unconstitutional.
The ruling was later put on hold with Wisconsin Attorney General J.B. Van Hollen filing an appeal to the 7th U.S. Circuit Court of Appeals. (Reporting by Jon Herskovitz in Austin, Texas, and Brendan O'Brien in Milwaukee; Editing by Bill Trott, Jim Loney and Eric Beech)
Also on HuffPost:
10 Incredible Improvements For LGBT People Since The First State Legalized Gay Marriage
SUBSCRIBE AND FOLLOW
Get top stories and blog posts emailed to me each day. Newsletters may offer personalized content or advertisements.
Learn more