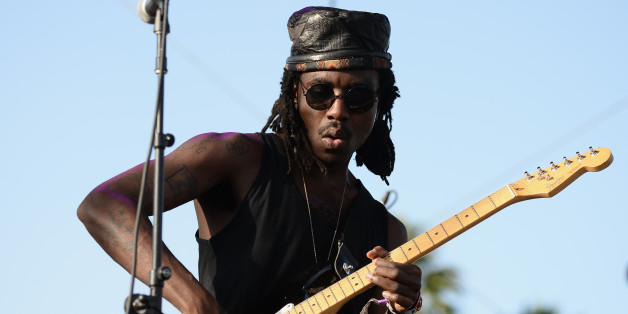 British artist Dev Hynes, a.k.a. Blood Orange, says that he and his girlfriend, Samantha Urbani, were assaulted by Lollapalooza security shortly after his Friday, August 1, performance at the music festival. Hynes sent out several tweets explaining the situation.
Samantha and I just got assaulted by the security. We are about to press charges
They grabbed her I asked what they were doing and they grabbed my neck and threw me to the ground, then two others joined in on me
Everyone saw it. We are pressing charges, I can't believe it. I'm so upset. Why is this still happening? I just want to make music
I WAS JUMPED BY THREE SECURITY GUARDS AND SAMANTHA WAS TOUCHED BY SECURITY. WE ARE HURT. WE PLAYED YOUR FESTIVAL. @lollapalooza
If they're doing this to the musicians playing, then how have they been treating all the attendees throughout the day?
Thanks for the support. We are both very shaken and I am pretty bruised up. But blessed to be alive in this world. Others aren't as lucky. X
Ps. One of the security guards is claiming that I assaulted him which is insanity. If you saw the incident please get in touch. Thanks.
Hynes said that he gave a speech during his set touching on racism and police brutality. He was also wearing a shirt that he and his girlfriend made with the names of several victims of race-charged violence and police brutality, including Trayvon Martin and Eric Garner.
Samantha & I made this T-shirt which I'm wearing today. The set is dedicated to these names & more. We remember. pic.twitter.com/si4ndgDrK1
I gave a speech on racism and police brutality and then I am jumped by three security guards and my gf is assaulted. @lollapalooza
I'm in pain, what the fuck. The irony after my t shirt and message this morning, we are in shock
Urbani shared her own account of the events and thoughts on her Twitter page.
Insane how nightmare situations can just come in2 action so suddenly. Being assaulted by security &watching them attack Dev- so traumatizing
Shaking/crying feeling extremely violated &generally unsafe, beyond sad we missed the eminem show we were so psyched 4.
Terrifying thinking about if Dev was attacked like that & had a physical disability- like a heart problem, or ASTHMA #RIPEricGarner
How insanely ironic that I wore a homemade "STOP POLICE BRUTALITY" shirt onstage 2day &begged audience 2take care of eachother &film arrests
Rly not trying 2be 2self victimizing btw- this has shaken me so deeply bc this shit happens 2 ppl on all levels, constantly- feels endless
Thanks 4support guys, rly. We're shaken upset sad etc but ok. Just want 2keep working against violence &abuse of power. Speak up &take care.
Fans came to the couple's defense, writing comments addressing the situation on the festival's Facebook page, but the comments were quickly deleted after they were posted.
Apparently people are tweeting & writing on @lollapalooza Facebook page and they keep deleting the comments
@devhynes I wrote on their Facebook asking about it and they deleted my comment.
"Late Friday night, we learned of an incident involving an artist and a security guard on site. Since then, we have been in contact with those involved and the authorities, as we work together to resolve the situation. As always, our top priority is to ensure the safety of everyone at the festival."
We will update this post as more information comes in.

SUBSCRIBE AND FOLLOW
Get top stories and blog posts emailed to me each day. Newsletters may offer personalized content or advertisements.
Learn more